 Anupam Kher goes global with Bollywood academy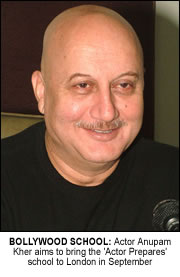 RENOWNED Indian actor Anupam Kher has revealed he is to open a Bollywood acting school in London.
The actor, a veteran of over 400 films, will open his first international Actor Prepares training academy in the capital later this year.
The school was launched in Mumbai three years ago and already has bases in Chandigarh and Ahmedabad.
After London, other schools are planned in the South African city of Durban, and in Sydney.
Kher became a recognised face in Gurinder Chadha's Bend it Like Beckham where he played the father of a young Sikh girl who idolised football star David Beckham.
He revealed it was the huge success of the film that led to his desire to open his academy in London.
"During the filming of 'Bend it like Beckham' it became obvious to me that there was enormous potential to build much stronger links between UK and Indian cinema," Kher told The Times newspaper.
"The huge success of the movie shows what happens when you combine UK and Indian artistic talent. There is a natural synergy which creates something special."
The school plans to open its doors this September and will be based in Ealing, west London.
Kher said he hopes the new academy will help improve the quality of performances in Bollywood films, with the help of young actors who have a wider experience of Western acting.
"The standard of acting in Indian films was mediocre generally but in the last few years audiences have become much more educated towards cinema because of the onslaught of satellite channels" showing Western films in India, he said.
"I am trying to kill off a certain style of clichéd Bollywood acting. It's already dying, so it is the right time to do this international school,"
But the school will not exclusively cater for Bollywood and will be open to non-Asians, Kher said.
"There are Britishers who want to act in Bollywood films as well.
"Of course, the Bollywood section of the course will be prominent but it won't be the only thing we teach. There is a film tradition section, where we will show them great films from world cinema. Acting is becoming universal."