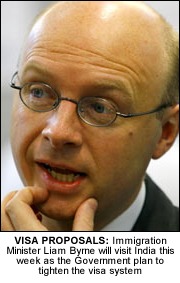 IMMIGRATION Minister Liam Byrne will visit India this week as part of a national and international consultation on changes to Britain's visa system.
The Minister will visit India with a delegation, as well as holding community events in London and across the UK, so he can discuss face to face  some of the issues raised by the recent consultation 'Visitors – A Consultation Paper' which will run until 10 March.
The changes are part of the biggest shake up to Britain's border security and immigration system in 45 years.
The government is expected to take a new tougher line on entry to Britain including the refusal of failed visa applicants to launch a judicial appeal against the decision.
"I'm clear our visit visa system is out of date. For many legitimate visitors – especially those who want to see loved-ones, it's too hard to get back together," Mr Byrne said ahead of his visit to India.

"Already people are flagging key issues – like reserving bonds for borderline cases only and keeping the time limit for family visas at six months.

"I want Britain's different communities to help me design a system that is slicker and more secure. We've never taken this kind of approach to listening on such a set of changes but I think it's the best way to get the answers right".
A cross party cross faith delegation, including Dr Rami Ranger MBE, Chairman of the Indo British Friendship Society, and Mr Gurpal Gill, Chairman British Multicultural Forum, will accompany the Minister to undertake field research in India.
Some of the key proposals set to be raised during the trip include the penalties for sponsors of family members who fail to comply with the conditions of their visa, and shortening of tourist visas.