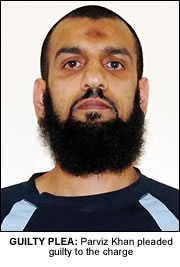 FOUR Birmingham men have pleaded guilty in a plot to kidnap a British solider and behead him.
Leicester Crown Court heard how Parviz Khan, from Alum Rock, Birmingham, planned to cut off his victims head "like a pig" in a garage and post a film of the atrocity on the internet.
Khan, who is believed to have been at the centre of the terrorist cell, wanted to instil "fear and panic" into Britain's Armed forces, Nigel Rumfitt QC, prosecuting, told the court.
Three other Birmingham men – Gambian national Basiru Gassama, 30, Mohammed Irfan, 31, and Hamid Elasmar, 44, also pleaded guilty.
Their guilty pleas were entered in January but a news blackout was placed on reporting them until the start of the trial of two other men connected to the plot who were charged under the Terrorist Act alongside the four others.
Amjad Mahmood, 32, of Jackson Road, Alum Rock, Birmingham, denies knowing about the soldier plot between April 2006 and February 2007, and failing to disclose it to the authorities. Zahoor Iqbal, 30, of Elmbridge Road, Perry Barr, Birmingham, has pleaded not guilty to possessing a document or record likely to be useful to a terrorist, namely a computer disc called Encyclopaedia Jihad.
All six men were arrested a year ago in police raids in Birmingham.
Outlining the plot, Nigel Rumfitt QC, prosecuting, told the jury Khan had hoped to kidnap his victim on Broad Street – the hub of Birmingham's entertainment district, with the help of drug dealers.
"He would be taken to a lock-up garage and there he would be murdered by having his head cut off like a pig," said Mr Rumfitt. "This atrocity would be filmed . . . and the film released to cause panic and fear within the British Armed Forces and the wider public."
A transcript of a conversation by Khan was also read out in court. The conversation between Khan and another man, said to be defendant Mr Mahmood, gave further details of the chilling plot.
The jury was told that Khan asked him: "Could you get that other job done?" before telling him: "You know what, I have found the people who have said OK.
"If we can do it via the other person's lad, by having a chit-chat with him and also by winning his interest by the white stuff. Then afterwards we can ambush him or whatever.
"If you give him the address, two lads will show blades and get him in the car and take him.
"If the other way, then just tell us where he lives. We will sort it. The car will be parked and as he comes out we will say, 'Oh! you been causing trouble'.
"Drag him into the car — there will be three men, they will put him in the car. I said it's not going to take more than 30 seconds — it's not as if we are going to kill people there."
Khan, a father of three, was described as a "fanatic" who was at the centre of the terrorist cell based in Birmingham.
Mr Rumfitt said: "The prosecution say that Parviz Khan is a fanatic. He is a man who has the most violent and extreme views. He was enraged by the idea that there were Muslim soldiers in the British Army, some of them Muslims from The Gambia in West Africa."
He enlisted the help of Gassama, a Gambian national, to help to identify a potential victim of the abduction plot.
The jury was also told a bug was placed in Khan's home by security services who recorded "highly incriminating and damaging comments" made during conversations inside the property.
Khan also sent various packages to Pakistan said to contain items for use by terrorists. He also made various trips to Pakistan, including one trip in December 2006 whilst he was under surveillance.
As he checked in investigators went through his luggage and found walkie-talkies, map holders and a bug detector.
A search of his home in Alum Rock also found similar items stacked up and ready to be packed, the court was told.
The case continues.