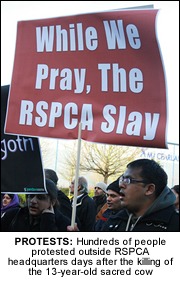 THE GOVERNMENT is being pressed for answers over the killing of Gangotri – a protected cow who was slaughtered by RSPCA officials at a Hindu temple in Watford last year.
The Hindu Forum of Britain has written to Prime Minister Gordon Brown and the Environment Secretary Hilary Benn accusing the government of failing to engage with the Hindu community in understanding issues surrounding the slaughtering of protected animals at Hindu temples.
The killing of 13-year-old Gangotri in December sparked criticism after worshippers at the Bhaktivedanta Manor claimed the RSPCA slaughtered the sacred cow while they were at prayer.
The temple had claimed the Belgian blue-jersey cross was ill but was not suffering from any disease.
The RSPCA, in a statement released at the time, said they had to put the animal's welfare first and had informed temple staff of their decision to put the animal down.
Hundreds of Hindu's and non-Hindu's also staged a demonstration outside RSPCA headquarters in Sussex days after the killing.
Ramesh Kallidai, secretary general of the Hindu Forum of Britain said the government needed to address the reasons behind the furore caused by the killing of Gangotri.
In the letter sent to the PM, Mr Kallidai said: "We would like to seek your immediate intervention on a matter that has caused great concern and resentment amongst the Hindu community in Britain.
"The Government needs to understand the issues surrounding sacred animals on temple premises and actively work with the Hindu community to find a way forward that will satisfy the law of the land, and also reassure the community's religious aspirations."
The HFB had earlier written to Prime Minister Gordon Brown after he had become Prime Minister to say that under his 'leadership of change', it was confident the British Government would continue to seriously listen and engage with faith communities of all denominations.
"For the first time many British Hindus felt genuinely included in the faith dialogue at that time," continued Mr Kallidai. "Unfortunately, though we have so far not had any response from DEFRA. This lack of engagement with our community on this matter is leading to increased anger and resentment, which are not conducive to community cohesion and integration."
The killing of Gangotri is not the first time health officials have incensed the Hindu community.
In July last year Shambo, an elderly temple bull in Wales who had bovine TB, was slaughtered after massive protests and a failed legal challenge.