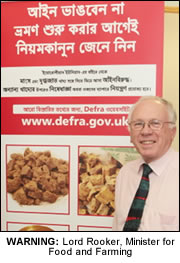 PEOPLE returning to the UK from India, Pakistan, Bangladesh and Sri Lanka are being advised to check the rules and restrictions on bringing back food products.
A new campaign run by the Department for Environment, Food and Rural Affairs (Defra) together with HM Revenue and Customs (HMRC) and the Food Standards Agency (FSA) reminds people that it is illegal to bring meat and dairy products for personal use back into the UK from countries outside the EU.
There are also restrictions on bringing back other food items, including fish, shellfish, honey, eggs and certain types of fruit and vegetables.
The restrictions depend on the country people are travelling from, and the same rules apply whether these food items are intended for personal use, as a gift, or sent in the post.
If the item is banned, or is in an amount greater than allowed, it will be seized and destroyed.
A number of seizures were made from people travelling to the UK from Eastern Asia, including Bangladesh, and Southern Asia, including India, Pakistan and Sri Lanka, in the past year.
Lord Rooker, Minister for Food and Farming, said: "People may not see any harm in bringing food back to the UK when they return from a holiday or a business trip. But some foods may contain pests and diseases that threaten the health of our agricultural crops and livestock. They may also threaten public health and that is why this campaign provides a useful reminder.
"I would urge everyone to check the rules before they leave the UK. If you are caught breaking them the consequences could be serious. You may face long delays, the items will be seized and you may also face prosecution or a fine."
Leaflets in Arabic, Bengali, Gujarati, Hindi, Punjabi, and Urdu have been produced as part of the campaign.