 Akshay Kumar welcomes 'Welcome'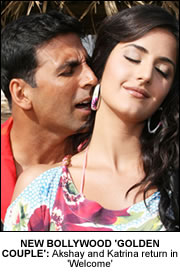 The versatile Akshay Kumar has emerged as Bollywood's hottest and most sought after star today. After three consecutive hits in 2007 (Namastey London, Heyy Babyy and Bhool Bhulaiyaa), Akki is set to storm the box-office yet again with the release of Welcome, his fourth big multi-starrer comedy, releasing on December 20 worldwide. We caught up with the man for a quick chat…
One year, three hits – how does it feel to be known as the man fiercely challenging the Shah Rukh Khan monopoly over the industry?
I've never believed in this monopoly situation. I don't think there is any Khan, Kapoor or Kumar monopoly. It's all created by the media. More than 150 films release in a year. There is sufficient place for everyone in the industry to survive and co-exist. I've done a guest role in SRK's 'Om Shanti Om'. SRK made a special appearance in 'Heyy Babyy'. So where's the question of a war?
But there is all this talk that Akshay is giving Shah Rukh sleepless nights! You've generated the most amount of business for the industry this 2007!
(Laughs) I'm not denying the business bit but the bit about giving SRK sleepless nights is again media-manufactured. I don't know where these comparisons have come from. SRK and I both came from Delhi. Neither of us had a film background and both of us were determined to make it in Mumbai. We've both been lucky that our audience has loved our films, and most importantly, loved us!
Your next release 'Welcome' is among the biggest multi-starrers of the year. Are you fine with doing multi-starrers?
Why shouldn't I be fine doing multi-starrers? As an actor, I can't close my mind to a subject. I look at the film, as a whole, I look at its script and its power. The number of heroes in a film is immaterial.
'Welcome' is being touted as the hottest Christmas and Eid flick of 2007. Tell us something about it!
If you enjoyed 'Hera Pheri', 'Phir Hera Pheri', 'Namastey London' and all my previous comedies, you will enjoy 'Welcome' even more. It is the king of comedies. It's a laugh riot from the word go. It's a film about fun, madness, frolic and laughter, and I'm glad that it's releasing at the right time – Eid & Christmas. It's the perfect way to welcome the festive season.
'Welcome' is your third film with Katrina Kaif. What is it like to work with her?
It's been a pleasure working with Katrina. She is a very sincere, persevering and disciplined actress who has moulded herself incredibly over the years. I see a dramatic change in her from my first film. She has really come into her own. I am currently doing my fourth film with her, 'Singh Is Kinng'.
You've remarked that 'Welcome' is your last comedy of 2007. In 2008, we are likely to see a different Akshay Kumar. Is that right?
As an actor, I think it's important for me to keep dabbling with a variety of subjects and themes. I need to give my audience and fans something different. I need to keep changing else people will get bored of me. I've done a number of comedies consecutively and I'm glad that 'Welcome', the biggest one of them all, will be my last for the year. I'm hoping that everyone watches it because it is a complete 'paisa-vasool' entertainer!
In 2008, my audience will see me in a different light. I am returning to action in a big way. I have Yashraj Films' 'Tashan', Rohan Sippy's 'Chandni Chowk to China' and Vipul Shah's 'Singh Is Kinng'. I hope 2008 will be as eventful for me as 2007!
What is the difference between Akshay Kumar when he started and Akshay Kumar today?
It's like asking me the difference between a baby and an adult! Well, I've done nearly 110 varied films till date – comedies, action adventures, dramas, thrillers. Earlier, I worked for money. Today cinema to me is more than just money. There's an incredible amount of passion involved. It's my life. It keeps me ticking!
A final message for your fans…
(Smiles) I wouldn't be here without you! I love you all, good luck and god bless always!
(For complete cinema listings on 'Welcome', visit www.studio18india.com)