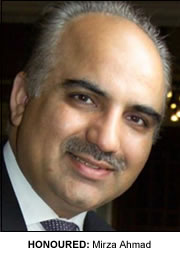 BIRMINGHAM City Council's chief legal officer has been recognised in the annual UK's Asian Power 100 awards.
Mirza Ahmad was honoured for his contribution to public service at a ceremony in London and was the only representative from local government in the 100.
He said: "This is a wonderful recognition for Birmingham City Council as I was only one of three people to be recognised from the city. In particular I pay tribute to the hard work of all elected members and my staff. Without their support and encouragement this latest award would not have been possible."
Council leader Mike Whitby said: "I am delighted that Mirza and Birmingham have been recognised in these latest national awards and I wish him and his department even more success."
This recognition follows his listing in the inaugural Muslim Power 100 publication in February this year, where he also won their Public Sector Excellence Award.
Mr Ahmad qualified as a barrister in 1984 and became Chairman of the Bar Association for Local Government and the Public Service in 1998.  He became Birmingham's chief legal officer in 2000 and currently manages in excess of 700 staff, consisting of Legal, Democratic and Regulatory Services. In 2000 he became the first local government manager to gain a 'three star – excellence rating' under the Government's Best Value scheme.
In addition, Mr Ahmad has led his department to success in many national awards, including the LGC Legal Team of the Year 2005, and was named Lawyer of the Month for the Black Lawyers' Directory 2006. His department also became the first legal practice in the UK to attain, in 2006, the Investor in Excellence Award from Midlands Excellence.