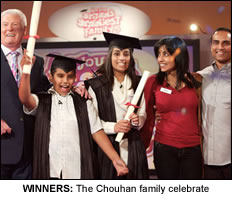 A FAMILY from Leicester have become Britain's brainiest family and scooped a £20k prize.
Karen Chouhan, her daughter Chhaya, 17 and son Amar, 10, beat off stiff competition to claim the title organised by technology giant Nintendo.
They will use the prize to fund Chhaya and Amar through University.
Jubilant mum and charity worker, Karen said: "It still hasn't sunk in yet that us, the Chouhan's from Leicester are Britain's Brainiest Family. We're both amazed and speechless! This is such an amazing prize and Chhaya and Amar will benefit so much from the free university fees."
In a nail biting finale hosted by Catchphrase legend Roy Walker, the Chouhan family used their combined knowledge to identify, memorise, analyse, compute and visualise various puzzles and brain teasers on family favourite Big Brain Academy.

The family qualified for the London final after breezing through their regional heat in Milton Keynes.
The family decided to enter the competition after daughter Chhaya spotted the Britain's Brainiest Family stand on a family shopping day. The Chouhan's practiced whenever they could using Amar's Nintendo Wii console.

Dad Jagdish, watching in the audience said: "We saw other families taking part and thought it would be fun but never imagined that we could win. Over the last few weeks the family has shared some great moments practicing on the Wii. We've all thoroughly enjoyed it."
And in another scoop for the family, they are also in line to front Nintendo's national advertising campaign for Big Brain Academy.

The search for Britain's Brainiest Family began in October with heats held in shopping centres in Newcastle, Manchester, London, Birmingham, Southampton and Bristol.