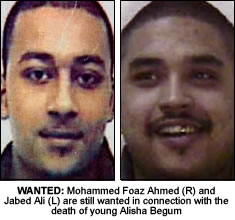 TWO MEN wanted in connection with the death of a six-year-old girl killed in a firebomb attack on her Birmingham home, are the subject of a new police appeal.
Mohammed Foaz Ahmed and Jabed Ali fled the UK after the death of six-year-old Alisha Begum.
The youngster died in her Aston home in March last year after it was firebombed in what police described as an 'honour killing'.
One man, Darryl Tuzzio, has already been convicted for his part in the attack. He was sentenced to eight years last October after being convicted at Birmingham Crown
Ahmed and Ali are thought to have escaped to Bangladesh in the days after the attack as police closed in on their involvement in the attack.
Det Insp Lynne Richardson, who led the investigation, said there was the possibility the two men had slipped back into the UK and urged anyone with information on their whereabouts to contact police.
"I want to bring them to justice," she was quoted as saying in the Birmingham Mail
"It is incredulous to us that an innocent relationship could lead to something so extreme. It's a total misuse of the word to call it an honour killing. There is no honour in this type of crime.
"I am appealing to people for help if they know anything about the whereabouts of Jabed Ali and Mohammed Foaz Ahmed, particularly if they have been back into the country. Although a man has been convicted of the manslaughter of Alisha, we have not closed this case, it is still a live investigation."
Ahmed is believed to have organised the attack after finding out Alisha's older brother, Abdul Hamid had formed a relationship with his 16-year-old sister, Meheran Khanum.
Ali, a close friend of Ahmed, is also suspected of playing a part in the attack.
The case recently featured in a special BBC Three documentary, 'Honour Kills', which was broadcast earlier this month.