 Star given fine and 13-match ban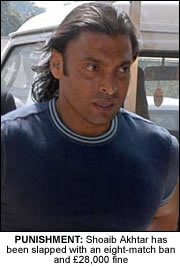 SHOAIB Akhtar has been fined and given a 13-match ban as punishment for attacking fellow Pakistan player Mohammed Asif days before the start of the Twenty20 World Cup.
The fast bowler was fined £28,000 and placed on a two-year probationary period in which any disciplinary breaches could lead to a life ban.
Akhtar's fate was sealed by a three-man disciplinary committee who found him guilty of five breaches of the code of conduct including the spat with Asif, playing in a charity match without permission and making unauthorised press statements.
Shafqat Naghmi, the PCB's chief operating officer said Akhtar's 13-match ban would include games already played by the team.
"We have decided to ban Shoaib for 13 international matches," Naghmi said.
"These include Tests, ODIs and Twenty20 matches. We have upheld the five-match ban given to him by Talat Ali in South Africa [for hitting Asif] and given him an eight-match ban on top of that. We have also fined him Rs3.4 million. The match-ban will run consecutively."
Akhtar will be available for the last ODI against South Africa, but more crucially for the India series straight after.
The player said he was keen to put the incident behind him and look forward to the Indian series.
"Although no cricketer wants to be banned and fined I am happy that the hearing by the Pakistan Cricket Board was carried out fairly and I'm now keen to put this behind me, Akhtar said,
"There have been too many controversies in my career and in Pakistan cricket and all I want now is to focus on my cricket and win more matches for my country.
"I was disappointed not to be able to make my comeback in South Africa for the Twenty20 World Cup so I am especially keen now that if I don't play against South Africa that I do make the squad for the tour of India.
"I didn't go on our last tour to India in 2005 because of fitness so this is a very important trip for me and the team. Hopefully I will be picked and I will be able to make some important contributions to the Pakistan team."