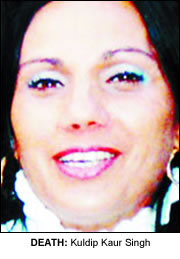 THE PARTNER of a man who died whilst in police custody has been found dead at her home.
Kuldip Kaur Singh, 29, was found collapsed at her home in Brierfield by family members, just two months after the death of her partner Nadeem Khan, Lancashire Evening Telegraph reports.
She was taken to Burnley General Hospital, but doctors were unable to revive her.
The cause of her death is not yet known.
Ms Singh, who had been with Mr Khan for eight years, was said to have been organising the funeral of her partner at the time of her death.
Mr Khan, also known as Dean, died in August after he was arrested by police in Burnley. He was taken ill whilst in custody and died some hours later.
Just weeks after his death Ms Singh, who had two young daughters with Mr Khan, took part in a demonstration organised by his family and friends seeking answers into her partner's death.
Jason Hoggs, Mr Khan's half-brother said the family would pull together to make sure the couple's children will be cared for.
He told the Lancashire Evening Telegraph: "I feel very sorry for the children. All five of them have lost a their mother and Aisha and Jasmine have lost both their parents within two months of each other.
"It's just becoming more and more of a nightmare for all the family. Kuli was organising Dean's funeral, so two months after his death we still have no idea when we will be able to bury him. God knows when it's going to be now."