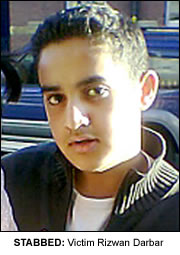 THE FAMILY of a student stabbed to death over a mobile phone have paid tribute to their "well respected" and "quiet" son.
A-level student Rizwan Darbar was stabbed in his stomach after refusing to give up his mobile phone after being confronted by three teenagers in West Ham Park, London.
The 17-year-old was with his two friends when they were approached by the group who demanded they give up their phones.
As his friends handed over their phones, Rizwan was stabbed in the stomach before he could comply.
He collapsed and died later in hospital after suffering two massive heart attacks,
Today, his distraught family paid tribute to the youngster and offered a £100,000 reward for information on his killers.
His father Aiyub, 46, a travel agent, said: "He was a good boy, a very quiet and well-respected boy.
"None of us can believe that this has happened to Rizwan. He was a good son and all I could have asked for. This has come as a body blow to our family. He loved playing football and spending time with his friends, he was just a normal boy."
His brother Tausif, 19, described the moment he found out his brother had been stabbed.
His brother Tausif, 19, said: "I got a call from my mother, who was crying, to say that someone had phoned to say Rizwan had been stabbed. I went straight down there but they were already putting him in the ambulance.
"They were giving him morphine but he was in so much pain that he couldn't talk to me. He recognised me – at least he knew I was there with him.
"He had been stabbed in the stomach once. There was blood but they said there was a lot of internal bleeding.
"He suffered two heart attacks in the hospital. He survived the first but his body could not take the second."
He was taken to Newham General Hospital where he had emergency surgery but he later died. Tausif added: "I've spoken to one of the boys who was with him who said it was black guys who demanded their money and phones.
"They say they handed them over and Rizwan was going to but hesitated and one of them stabbed him and they ran off."
Detectives investigating his murder are now scouring the park for the weapon.