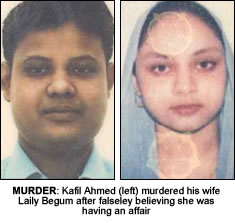 A MAN who killed his wife after thinking she was having an affair has been jailed for life for her murder.
31-year-old Kafil Ahmed brutally murdered his wife, Laily Begum, in a frenzied attack at their Darlaston home in January 2006, just days after she had confided in her brother-in-law about her husbands suspicions.
Birmingham Crown Court heard Ahmed then disposed of her body before fleeing to Norwich where he was eventually tracked down and arrested.
Despite substantial searches by West Midlands Police, Mrs Begum's body has never been found.
Judge Frank Chapman told Ahmed, who has a four-year-old daughter with his wife, he would have to serve at least 20 years before being eligible for parole, adding he had taken the life of a "loving mother".
He said: "You killed her because you were jealous of her kindness to other people, a kindness you mistook as unfaithfulness.
"Your anger took over when she embarrassed you by complaining about your suspicions to your brother."
The judge said he accepted that the killing was not premeditated but criticised Ahmed who proceeded to lie about what really happened.
Judge Chapman told him: "You were prepared to blame anyone if it was to your advantage.
"I ask myself why you have concealed where she was laid.
"I can only conclude it's because of the dreadful injuries you inflicted upon her."
The court heard Mrs Begum had called her brother-in-law just days before she was murdered confiding in him about her husbands suspicions that she was having an affair.
Anthony Barker, QC, prosecuting, told the court she was crying on the phone and was due to fly out to Bangladesh to visit relatives in a matter of days.
The brother-in-law spoke to Ahmed and reassured him his suspicions were unfounded, Mr Barker added.
But after failed attempts to contact Mrs Begum her parents went to the couple's home where they found blood.
Mr Barker told the court there was "a lot of blood" and evidence had suggested Mrs Begum was the victim of a savage attack.
As Ahmed was sentenced, Mrs Begum's brother, Samad Uddin made a plea for anyone who may know where his sister's body is buried.
"I would like to say that if anyone does have any information to tell the police. I would like to stress that we need to know where the body is to have closure," he said.