 Bollywood Film Review with Manish Gajjar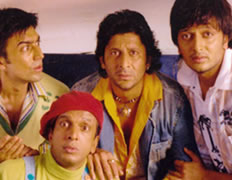 Director:
Indra Kumar


Cast:
Sanjay Dutt, Arshad Warsi, Javed Jaffrey, Ritesh Deshmukh, Aashish Chaudhary, Asrani, Tiku Talsania, Aftab Shivdasani, Sohail Khan
This comic caper revolving around four friends includes Roy (Riteish Deshmukh), who believes he was born to be the best detective in the world.
Then, there is Manav (Javed Jafferey), who happens to be the biggest idiot in the world but he is completely oblivious of this fact!
Meanwhile, Manav's elder brother, Aditya (Arshad Warsi), has a wealth of knowledge which is a great asset to his fellow friends.
Last but not the least is Boman (Aashish Chowdhury), who is known as Mr. Scared of Everything. His greatest fear is his father, Nari Contractor (Asrani).
These four lovable idiots live and work together by doing small time con jobs. The thought of earning an honest living has never crossed their minds.
So one fine day, whilst trying to save Bose, a dying man, they get their big break. They learn from him about some hidden millions as Bose takes his last breath.
They are ecstatic with this news because it means easy money and easy life.
But on the contrary, it is the beginning of their misfortunes!
Police Inspector, Kabir Nayak (Sanjay Dutt) has been chasing Bose for the last ten years. He finally finds him. Only dead!
Desperate for his promotion, he questions the suspicious looking foursome who are found next to the body. When they manage to give him the slip, so begins the cat and mouse chase . . .
As one misadventure follows another, all five are thrown into hilarious and threatening situations resulting in laughter galore in this comic caper released by Tip Top Entertainment.