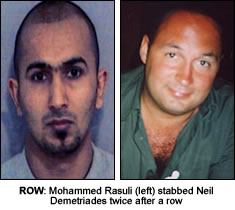 A LEICESTER chip shop owner who stabbed his neighbouring café boss following a row has been jailed for six years.
Afghan national Mohammed Sadeq Rasuli was cleared of murder but found guilty of manslaughter in the death of 38-year-old Neil Demetriades last December.
Rasuli was told he must serve six years before he is considered for parole.
The trial at Leicester Crown Court heard how the two men clashed last December following work at Mr Demetriades' Café Greco premises which was next door to Rasuli's Apollo Fish Bar, in the Woodgate area of the city.
The pair are believed to have fallen out after builders working at the Café Greco burst a water pipe.
The court was told Mr Demetriades gained access to Rasuli's premises to reach the stopcock to turn off the water, causing minor damage to corrugated plastic sheeting.
Rasuli demanded Demetriades repair the damage and over the following days the row escalated.

On Sunday 3 December the pair argued again and Rasuli grabbed a knife and stabbed Mr Demetriades before chasing him across Woodgate. Rasuli ran after him and stabbed him a second time on Storey Street.
As Mr Demetriades lay dying in thr street Rasuli, the court was told, left the scene and joined a femal employee at a neardy sauna in an effort to "calm down".
Rasuli, who lived above the chip shop, claimed that he had acted in self-defence.
He told the court: "He tried to grab me by the neck. He was calling 'Are you a man? Do you think you can do this?'
"I tried to push him away the first time. I couldn't do it. He was stronger than me .I was fighting for my life at that time. I thought he was going to kill me."
Rasuli said he did not realise he had stabbed Mr Demetriades until he collapsed on the floor. He added the stabbing was an "accident".
Detective Chief Inspector Phil Taylor who led the police investigation, said: "Neil's death was tragic and unnecessary. He died because Rasuli chose violence to resolve what appears to have been a petty argument.
"Neil's death highlights the danger posed by knives in the wrong hands when tempers flare. I hope that people will learn from what happened."
CPS Leicestershire's Chief Crown Prosecutor, Janet Meek, praised the prosecution team effort, which had brought Rasuli to justice. She said: "This was a highly unusual case in that Mohammed Rasuli had never been in trouble with the law before, yet he took a knife and stabbed his neighbour after a seemingly petty argument.
"The loss of life is always tragic, but to lose it in this way is a double blow for the family of Mr Demetriades.
"We will never know what made Mohammed Rasuli, a man of previous good character, snap on that day, causing him to kill an innocent man."