 Former captain looking to resurrect career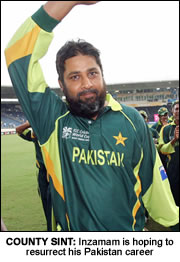 FORMER Pakistan captain Inzamam-ul-Haq has been offered a lifeline as he aims to force his way back into the Pakistan team.
The 37-year-old will turn out for Yorkshire as a short-term replacement for fellow countryman Younus Khan while he is at the ICC World Twenty20 tournament in South Africa next month.
He will deputise in three Championship games and up to three Pro40 fixtures.
"I have accepted a short-term contract because I have never experienced playing for a county," he said.
"I see my stint with Yorkshire as a good opportunity to get ready for a hectic international season for Pakistan."
Inzamam has not played for Pakistan since he stepped down as captain following the team first round exit from the World Cup in the West Indies earlier this year.
He has always stated his desire to return to the Pakistan side but has been told he must prove his fitness before being considered for selection.
A club statement said they had "stated their determination to maintain their challenge for the LV Championship title in the strongest possible terms" with such a high-profile signing.
The statement added: "Inzamam has said that he wants to continue playing Test cricket, but he was not given a contract by the Pakistan Cricket Board last month.
"His involvement with Yorkshire means that his first-class career is still very much alive."