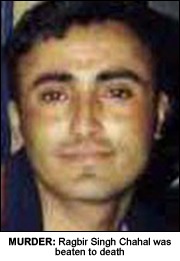 AN ILLEGAL immigrant who beat his flatmate to death after a row has been sentenced to life in prison.
Merjit Bair, 32 , of Warley, Sandwell, was found guilty at the Old Bailey for the murder of 31-year-old Ragbir Singh Chahal.
He was told he would serve a minimum of 12 years in prison before being deported back to India.
Two other men – Jagpal Jaswal, aged 22, and Ritesh Marwaha, aged 22, both of Stanmore Rd, Smethwick – were found guilty of manslaughter and attempting to pervert the course of justice, after being acquitted of murder. They were jailed for four years each.
Another man, Jatinder Kandola, aged 28, of Europe Avenue, West Bromwich, was cleared of both murder and manslaughter, but convicted of attempting to pervert the course of justice and jailed for three years.
The court heard all four men, who were illegal immigrants from India and working as builders, lived with Mr Chahal in his house on Plumstead High Street.
On 2 March last year the men, who were prone to heavy drinking, got into a row with Mr Chahal which led to his death.
Bair beat Mr Chahal, who was known as 'Bittu', with a heavy metal Kara bracelet, worn by Sikhs as a sign of devotion.
"So forcibly had he been beaten around the head that Bittu also received injuries to his brain that were to lead to his death the following day," Jonathan Laidlaw, prosecuting told the court.
The following day three of the men went to work leaving one to stay with the dying victim to stop him calling the police.
The four men then dumped Mr Chahal's body on Plumstead Common, before fleeing to the Birmingham area, the court was told.
But they were caught after police found Mr Chahal's mobile phone in his pocket and traced the defendant's numbers.
Sentencing the men, Judge David Paget QC, recommended each of them for deportation when they are released from prison.