 Actress broke up my marriage, says divorced wife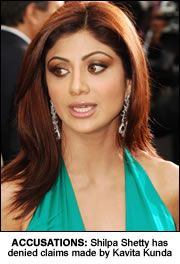 BOLLYWOOD actress Shilpa Shetty has hit out against accusations that she was the reason behind the breakdown of the marriage of a British-based film producer.
Kavita Kundra, 25, blamed the Celebrity Big Brother winner for the collapse of her marriage with British-Asian millionaire Raj Kundra, who worked with Shilpa on the launch of her perfume S2, in an interview in the Mail on Sunday.
Mrs Kundra, who is from the Midlands, said her efforts to rekindle their three-year marriage were ignored after he returned from a trip to India where he met with Shilpa.
She also said her husband told her Shilpa's mother, Sunanda
Shetty, had touted him as a possible marriage suitor for her daughter.
In a statement released to the media, Shilpa said: "For someone I have never met or heard of to make such a public attempt to tarnish my name is inexcusable, uncalled for and I would like to respond and make a clarification once and for all.
"I do know Raj Kundra as he was introduced to me three months ago regarding the perfume as he is a business associate of Farhat Hussain, who is handling some of my work.  I met with Raj in the capacity of the perfume deal and we have had discussions and meetings regarding finalising the perfume S2 which released in stores earlier this month."
She said publicity for the perfume took the duo across the country and that the two had become friends which "by no angle is a crime in any part of the world".
She added: "I feel for her if she is going through some frustrations in life but refuse to stand for her using my name to vent these frustrations or to gain her marriage or break up any mileage, as my culture and upbringing does not permit me to break marriages and I am the least interested in knowing or hearing anymore about her.  

"If she continues to tarnish my name out of any insecurity or otherwise, I will consider taking legal action as I see no reason why my name is being dragged into this mess."
Raj Kundra also denied the accusations levied against him and the Bollywood actress

He said his relationship with Shilpa was purely "professional" and said he had no association with the actress when the couple parted.