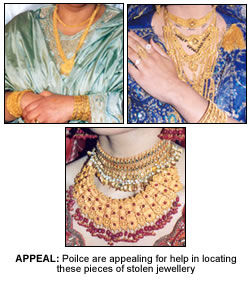 DETECTIVES in Stoke-on-Trent are appealing for help from jewellers and members of the Asian community in tracing thousands of pounds worth of jewellery stolen in a burglary in Stoke-on-Trent in May this year.
Eight European males entered a jewellery shop in Sneyd Green, Stoke-on-Trent on 16 May.
Whilst some of the men distracted the staff others entered the private and residential areas of the shop and escaped with the couples life savings and treasured wedding jewellery.
Police have now released photographs of jewellery which is estimated to the worth around £32,500. 
The jewellery has hand made in Pakistan and is very distinctive, police said.   
PC Zoë Cliffe from Stoke-on-Trent CID said: "We need the help of those in the jewellery trade in tracing this jewellery; it is believed that the criminals may try to sell the jewellery on into the trade. 
"The victims have been left extremely upset and distressed by the burglary so it is vital that anyone who is offered the distinctive jewellery contacts us."
A quantity of cash, a laptop computer, mobile phone and a watch were also stolen in the burglary.
Anyone with information should call Stoke-on-Trent CID on 08453 30 20 10 or call Crimestoppers anonymously on 0800 555 111.
Related Articles: