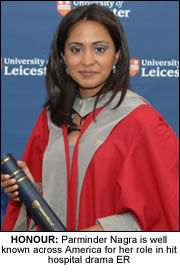 SHE has found fame playing a doctor on the small screen, now Leicester's very own Parminder Nagra has become the real thing after she was awarded an honorary doctorate by the University of Leicester.
The 32-year-old, who shot to fame as football mad Jess Bhamra in Gurinder Chadha's 'Bend it Like Beckham', is a regular in hit American hospital drama ER playing Dr Ness Rasgotra.
She can now use the prefix Dr for real after returning to her home city yesterday where she was awarded an Honorary Degree of Doctor of Letters.
She was welcomed onto the stage by the University's Professor Gordon Campbell who said: "In American universities the first degree in medicine is that of Doctor of Medicine, and Parminder has risked being struck off the medical register for not having a doctorate. A remedy is now at hand."
Speaking on her doctorate, Parminder said it was a "great honour and privilege".
She said: "It is a great honour and privilege to be stood hear today, my most sincere thanks to the University of Leicester and Dr E Parker for having organised all of this, you have no idea how much this means to me. A degree is something that I had always wanted but had thought it was something that had just passed me by. So I feel very fortunate to be stood here right now, especially in this rather fetching gown, I know my mum will love it."
She added her ER American co-stars were also excited for her.  
"I've been playing a doctor for the past four-and-a-half years so it has been a bit odd getting a doctorate now," she said.
"I told all my cast mates on ER and one of the girls, who plays Abby, asked if they'd have to start calling me Dr Parminder now.
"They're all really excited for me," she said