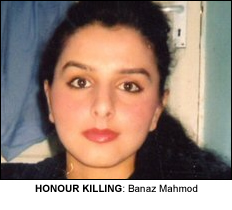 A FATHER who murdered his daughter, put her body in a suitcase and buried it in the garden of a Birmingham house has been found guilty of her murder.
20-year-old Banaz Mahmod was killed in what police described as an 'honour killing' after falling in love with a man her father disapproved of. 
Today, her father Mahmod Babakir Mahmod, 52, was found guilty of her murder by an 11-member jury who returned unanimous verdicts following a 14 week trial.
Banaz's uncle, 51-year-old Ari Mahmod Babakir Agha was also found guilty of her murder.
Mohamad Marid Hama pleaded guilty to Banaz's murder before the trial began, while
Pshtewan Hama pleaded guilty to perverting the course of justice.
During the three-month trial the jury was told Banaz had written to the police four times telling them she feared for her life.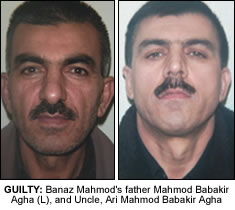 She had written names of those she believed would kill her – including one who eventually admitted to her murder.
The jury heard how her fears were dismissed by a female officer who believed she was making up the accusations to get attention from her boyfriend. The female officer is just one of a few officers who are now being investigated over the handling of the case.
Chilling mobile phone footage of Banaz taken by her boyfriend Rahmat Suleimani in which she accused her father and uncle of trying to kill her was also played in court.
The footage, which was filmed on New Years Eve 2005, showed a clearly distressed Banaz fearing for her life.
Speaking into the camera she said her father had given her brandy to drink before returning to the room wearing gloves.
When he left Banaz managed to escape from the house and ran barefoot to a local café where she broke down in tears.
The court heard that despite the incident Banaz had decided to return home and continued her relationship with Mr Suleimani.
But when he was threatened by associates of her uncle she contacted police who urged her to stay in a safe house.
Banaz refused, the jury was told, believing she would be safe at home with her mother.
The following day she disappeared from her home and was reported missing by her boyfriend.
Three months later her badly decomposed body was found in a suitcase buried in the garden of a home in Handsworth, Birmingham.
Both Mahmod and Ari had been previously arrested in connection with Banaz's murder but were released.
But on 30 April 2006 both men were rearrested and charged with murder.

Speaking after the verdict Senior Investigating Officer DI Caroline Goode said:

" I am extremely pleased to see justice served for Banaz today.

"I would like to thank everyone involved in the inquiry who has helped us achieve this result, particularly Banaz's boyfriend and her sister who have had the courage to come forward to tell the truth about this most cowardly of crimes.