 Rikki Bains on the dilema for Asian footballers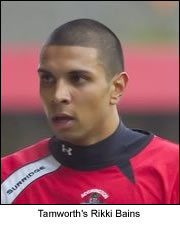 TAMWORTH defender Rikki Bains has jumped to the defence of former Fulham and QPR star Zesh Rehman who said British Asian footballers should not count on playing for England.
In an exclusive interview with The Asian Today 19-year-old Bains said Rehman, who was the first British Asian footballer to play in the Premiership, "had a point" in saying players like Bains and Championship hot-shot Michael Chopra should consider playing for the likes of India and Pakistan.
Rehman was quick to criticise the England set-up after Micheal Chopra was overlooked for their recent Euro qualifiers against Israel and Andorra.
His Championship rival David Nugent however was given his first senior England cap despite scoring fewer goals than Chopra in the Championship, prompting the former Fulham defender to suggest Chopra should consider a call up from the Indian team.
"I think he [Rehman] has a valid point and the only way that countries are going to improve their standard of football is to be getting the players they need to take them up to the level they want to be at", Rikki Bains told The Asian Today.
"However I do believe that if you are good enough then you will get your chance but it is up to individuals to decide whether they believe they have the ability to get to the standard required to play for England."
But would Bains consider turning his back on England if the international Indian team expressed an interest in him?
"Yes I would but at what point in my career is difficult to calculate, however if I did not think I would get the opportunity to play for the country I was born and bred in then I would consider other options definitely", he said.
Bains is only one of a handful of British Asian players in the English football league.
The 19-year-old, who began his career as a trainee with his hometown club Coventry City, moved to Nationwide Conference side Tamworth earlier this year.
He told the Asian Today more Asian players in club academies were needed for a realistic chance of seeing another 'Zesh Rehman' in the Premiership.
"The amount of footballers that make it into first team set ups from youth team level is extremely small", he said.
"1 in 8 usually go on to have careers at first team level. So for Asian players to be getting through you need to have more players of that 8 to be Asian.
"In my opinion to be getting more Asian players in the Premiership you need more young Asian players in the academies."
In his relatively short playing career Bain's has already worn the shirt of no more than three clubs – Accrington Stanley, Leek Town and Tamworth.
His days as a trainee at Coventry City were cut short when he released by the Midland club at the end of the 2006/2006 season after failing to break into the first team .
He admitted the decision was hard to take but said he had since developed as a player during his stints with Accrington Stanley, Leek Town and now Tamworth.
"I was extremely disappointed", he said of his release from Coventry City.
"I had grown up with my team mates and all I wanted to do since I signed was to play for the first team.
"You have to learn from it though and let the situation make you stronger and more determined.
"At Accrington and playing in League Two, it help me develop the physical side of my game and now I am a better all round player."