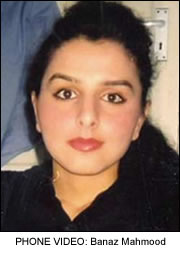 A WOMAN who was killed and buried in a suitcase in a garden in Birmingham accused her father and uncle of trying to kill her in a chilling video recorded on her mobile phone, the Old Bailey heard.
Banaz Mahmood, 20, is believed to be the victim of an honour killing at the hands of her father Mahmod Mahmod, 52, and uncle, Ari Agha, 50. Both men deny murder.
Her body was discovered buried in a suitcase in the back garden of a house in Birmingham last January. She had been strangled with a bootlace.
She was killed after her father discovered she had a boyfriend who he disapproved of, the court heard.
In a video taken by her boyfriend Miss Mahmood claimed her father forced her to drink brandy. "It was in a black plastic bag like in Kurdistan," she said. "He said, 'open it up and drink it bit by bit.'"
She said she became frightened when her father returned to the room wearing gloves.
"I was really scared and got up to leave the room. He said, 'sit down, sit down.'"
When her father left the room again Miss Mahmood took her chance to escape, the prosecution said.
She escaped the house by a back door and ran barefoot to a local café where she burst into tears and said: "They are trying to kill me".
When she was taken to hospital, she was afraid to leave the ambulance. "She kept saying her father and her uncle were trying to kill her," the prosecution said.
The video was filmed on a hospital trolley, at St George's in Tooting, on New Year's Eve 2005, and was played in court on video screens. Miss Mahmod was murdered three weeks later, the prosecution says. Victor Temple, prosecuting, said: "This bears all the hallmarks of an earlier attempt to kill her."
The jury was also told another man, Mohamad Hama, 30, had pleaded guilty to her murder. He killed Miss Mahmod at the instigation of her family, Mr Temple said.
He also told the jury Miss Mahmood was married at the age of 17 but left her abusive husband and returned to the family home.
Soon after she met an Iranian Kurd named Rahmat Suleimani, but her father disapproved of the relationship, the court heard
Miss Mahmood's father met with Mr Suleimani in October 2005 and warned him he would never be allowed to marry his daughter.
Two days before her murder Mr Suleimani was threatened by four men who said they would kill him if he continued to see Miss Mahmood, it was alleged.
The trial continues.