 Bollywood Film Review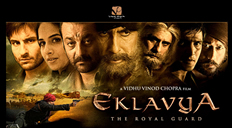 Set in the princely state of Rajasthan in India, Eklavya is a picturesque edge of the seat dramatic thriller.
Director: Vidhu Vinod Chopra
Cast: Amitabh Bachchan, Sanjay Dutt, Jackie Shroff, Saif Ali Khan, Vidya Balan, Sharmila Tagore, Boman Irani, Jimmy Shergill, Raima Sen
Eklavya (Amitabh Bachchan) is the royal guard of this dynasty who lives in a time warp protecting the fort and the king.
For nine generations Eklavya's family has protected Devigarh, a centuries old citadel in Rajasthan.
His marksmanship is the stuff of legends. His unflinching loyalty inspires ballads.
Eklavya has spent his entire life serving the royals and closely guarding their secrets but now he's getting old and increasingly blind.
Unable to cope with the suffocating customs of his land, the heir, Prince Harshwardhan (Saif Ali Khan), has stayed away in London.
But the sudden demise of the queen, Rani Suhasinidevi (Sharmila Tagore), forces the Prince back to the kingdom he had left behind.
The Prince's return brings a rush of joy into the fort. His mentally challenged twin sister, Princess Nandini (Raima Sen) and his childhood love Rajjo (Vidya Balan) are delighted to see him. But the joy of reunion is short-lived.
There is unrest in the kingdom. Farmers are being stripped of their lands. The king, Rana Jaywardhan (Boman Irani), influenced by his brother, Rana Jyotiwardhan (Jackie Shroff), supports the atrocities being forced upon the helpless peasants.
Soon the king receives a death threat over the phone. Police officer, Pannalal Chohar (Sanjay Dutt), is called in to investigate but he might be too late as the kingdom is already in turmoil.
The fragile peace of the land is suddenly shattered by a barrage of bullets. And amidst the mayhem, the safely guarded secrets of the fort are unveiled.
What follows is a contemporary, edge-of-the-seat dramatic action thriller with a Amitabh Bachchan heading an all star cast.
The film marks the return of Vidhu Vinod Chopra who directs after a gap of seven years.
The film sees veteran actress, Sharmila Tagore sharing screen space with her son Saif Ali Khan.