 Duo Win Ladies Doubles Crown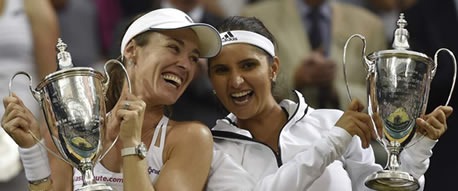 Martina Hingis and Sania Mirza recovered from 5-2 down in the final set to storm to a 5-7, 7-6(4), 7-5 victory over Russians Ekaterina Makarova Elena Vesnina, a match played before an electric crowd.
For Mirza, it was her first Grand Slam women's doubles crown; for Hingis, it was her third at Wimbledon, but first in an astonishing 17 years.
And it was heartbreak for Makarova and Vesnina. They also led 5-2 in the final set of the Australian Open 2014 women's doubles final, before falling to Italians Sara Errani and Roberta Vinci. 
Saturday's final was a battle between the top two seeded teams and four expert practitioners of the tandem game. The result was a classic.
"For a match like this, the No.1 and No.2 seeds playing, it was the best match you could have asked for for the tournament. It was unbelievably exciting. It was exciting to play. I really hope it was exciting to watch, too," Mirza said. "Even when we were down, we knew we were giving everything we had on the court. These are the moments we worked years and years and all our lives for. This is what we play for. We feel really honored to have won that match really."
The pairs traded breaks to open the match; Makarova and Vesnina capitalised on some nervous play from Mirza to draw first blood, only for Hingis to respond in game two, playing an exquisite lob over the heads of the Russians to help her team break back.
The sizeable Centre Court crowd was noticeably pro-Hingis and Mirza, yet the top seeds were unable to shake Makarova and Vesnina as games went on serve throughout the remainder of the set.
That was until the Russians made a charge in the 11th game. After Hingis double-faulted to fall behind 0-30, Vesnina poached to knock off a volley winner and then smacked a forehand winner past Mirza to help her team break for a 6-5 lead.
Makarova struggled serving out the set, but from 15-40, she recovered; she found a big first serve to draw a return error from Mirza, and then Vesnina – so dangerous at the net – successfully poached again to close out the set.
Games went on serve in the second set, yet the Swiss-Indian pairing had the advantage of serving first to remain ahead throughout. While they coasted on serve, the Russians struggled, yet they always managed to hold; not only were they able to remain solid under pressure, they were also aided by several Mirza errors. The doubles world No.1 may have cracked her forehand impressively, yet it was erratic.
The set progressed to a tie-break, and the top seeds lifted. They immediately went up a mini-break when Makarova missed a volley, and extended their lead to 5-2. Although Mirza dropped both of her service points to tighten the tie-break up at 5-4, her team then went for broke; Hingis nailed a backhand winner up the line before Mirza did the same on the next point with her forehand, searing a winner to lock the match up at a set apiece.
The Russians responded strongly in the final set, breaking in the fourth game after a fabulous rally that yanked all four players about the court before Vesnina slammed an overhead winner. Makarova was rock-solid but it was Vesnina who proved the most potent of the No.2 seeded pair; she picked off three successive volley winners to put her team ahead 4-1.
When Makarova played a swinging volley winner the No.2 seeds led 5-2. But Hingis and Mirza were not done. In fading light they discovered their games at the net, both snapping off several winners to reel in the Russians. The ninth game was particularly exciting; the Swiss-Indian pair saw a 0-40 lead evaporate, yet they steadied. Mirza then cracked a clean forehand return winner down the centre of the court, and Hingis poached, added a roar of intensity as she put away a backhand volley.
They levelled at 5-5, and the decision was made to shut the roof and illuminate the court. When players returned after a 10-minute break, Hingis and Mirza found an inspired gear.
Buoyed by the excited crowd, they produced a succession of winners and watched as the Russians' games broke down; they nabbed a service break to lead 6-5, and with Hingis serving for the title, kept the ball in play as the second seeds self-destructed.
"We had chances every game. I don't know why, we both believed. Even at 2‑5, we didn't feel like we were down and out of the match. It was about one break, and it really was," Mirza said.
"All we said to each other was, 'Make them win the match. Let them win the match,' not for us to lose the match, which means we had to put the ball inside the court, do the right things. If they still come out, serving unbelievable the whole match, we knew that at some point hopefully it was going to come down. If it didn't, you say, 'Too good,' shake hands."
Added Hingis: "Sixty-four miles an hour match point second serve, it was like, 'OK, praying for it.' I'm like, 'Watch out [Sania], don't get killed.' She [Vesnina] missed it thankfully. At 40‑love, you just hope for putting the balls in and make it happen."