 Actress scores for children's education campaign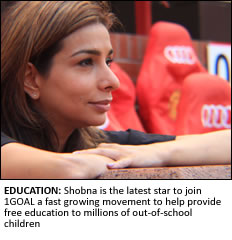 CORONATION Street star Shobna Gulati recently netted a different role with a pre-World Cup kick-about at OldTrafford.
The actress and footie fanatic, known for her role as Sunita Alahan, was at the 'Theatre of Dreams' to front a children's education campaign.
Shobna, a lifelong Manchester United fan who recalls going to her first home game when she was a child, was there to help promote children's education with development charity Plan UK.
She took time out of her filming schedule to talk about the England team, her favourite Man United players and why she is backing a massive global call to get some of the world's poorest children into school.
Shobna is the latest star to join 1GOAL a fast growing movement to help provide free education to millions of out-of-school children.
The actress is joining forces with TV presenter and Chelsea fan Fiona Phillips to help raise awareness of the campaign
1GOAL, backed by some of the biggest names in sports and entertainment, has also been championed Corrie star's favourite football team.
"Being a Man United fan has become my true religion", jokes Shobna.
"My father was season ticket holder. I got taken to a lot of matches when I was little and I have been going to games at Old Trafford ever since.
Despite England's loss to Germany, Shobna is following events at the World Cup in South Africa along with millions of football fans
 "I wish it could have been England. But if wishes were horses we would all ride wouldn't we?"
Save the Children, Action Aid and Plan UK are some of the charities leading the 1GOAL campaign.
They are using Africa's ever FIFA World Cup, to drum up support for free quality education for 72 million out of school children across the Continent and other parts of the world.
"Education is the most important thing I think you can give to anybody", says Shobna
"Because education is not available to every single child on this planet because of their social or economic circumstance, I think it's important to get to a stage where that choice is there for every single child."