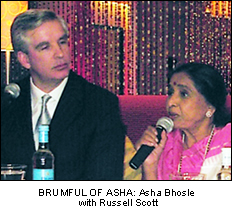 SHE'S famous for having one of the most mesmerizing voices in Bollywood, but this month fans of singing sensation Asha Bhosle can dine in luxury at her very own restaurant in the heart of Birmingham.
Aptly titled 'Asha's', the £1million restaurant which opened last month, is the first of ten which will open its doors across the whole of the UK over a five year period.
The restaurant is already enjoying a successful stint in Dubai which has been feeding curry lovers since it opened in 2002.
Jetting into Birmingham for the launch, the 73-year-old, spoke to journalists at the restaurant and revealed why she chose to share the culinary delights of her kitchen with curry lovers across the city.
Joined by son Anand, and partners in her restaurant franchise Russell Scott and Susan Potter, Ms Bhosle said: "I love cooking as much as singing and I wanted to share this love of mine with others. It's always been a passion of mine so to be able to share that with people here in Birmingham is fantastic."
Russell Scott, a former head of fish and chips chain Harry Ramsden's and head of the U franchise, said Birmingham was a perfect city for the UK's flagship 'Asha's' restaurant for its vibrant multi-culturalism.
"The UK has a lot of Indian restaurants and we wanted to make sure that with this restaurant it showed the difference and way forward. "Birmingham is a great place to come to because there is a wonderful multi-cultural spirit and great understanding."
Anand Bhosle, who will oversee the operations of the restaurant from time to time, said that there was an appreciable "buzz" about the opening of Asha's because of his mother's immense popularity. "My mother is really excited about this new project. For her, it is the logical extension of her music career. She has always enjoyed cooking and the restaurant will offer her personal recipes," he said.
Fans of Asha planning a visit to the restaurant will be treated to a Bollywood themed menu cooked by a host of renowned chefs who were personally trained by the singing star for six months.
Away from the restaurant the singer is gearing up for the March release of her next song alongside none other than Robbie Williams.
She has also collaborated with REM's Michael Stipe and Nelly Furtado and Australian cricketer Brett Lee who strikes a chord with Asha on her album 'Asha & Friends'.