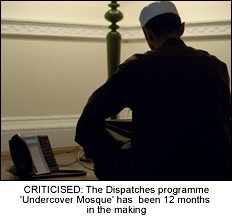 A BIRMINGHAM Mosque at the centre of a Channel 4 undercover investigation broadcast last night have hit back at the broadcaster accusing it of "pander[ing] to age-old anti-Muslim prejudices".
The city's Green Lane Mosque was filmed as part of a 10-month undercover programme on Islamic extremism within the UK. The Dispatches programme, 'Undercover Mosque', broadcast footage of talk's held within the Mosque in which visiting American cleric Abu Usamah is heard calling Jews and Christians "enemies" of Islam.
He also said Osama Bin Laden was better "than a million George Bushs, he's better than a thousand Tony Blairs," because he is a Muslim".
But the mosque, which is the headquarters of the Markazi Jamiat Ahl-e-Hadith, a registered British charity which runs more than 40 mosques and branches in the UK, slammed the show.
In a statement posted on their website today, the Mosque said:
"It is extremely disappointing but not at all surprising that 'Dispatches' has chosen to portray Muslims in the worst possible light. 'Dispatches' has opted for sensationalism over substance with total disregard for peaceful community relations.
"This so-called 'undercover' investigation merely panders to age-old anti-Muslim prejudices by employing the time-honoured tradition of cherry picking statements and presenting them in the most inflammatory manner."
It continued saying it was "disingenuous" of the programme to claim they had infiltrated secret meetings when "every lecture, in its entirety, has always been available in the public domain".
"We have a long track record of good community relations and peaceful co-existence with all sections of the wider community. We will continue to strengthen our positive partnership with the authorities in addressing the needs of our communities in areas such as spirituality, health, education and crime prevention.
"Markazi Jamiat Ahl-e-Hadith UK condemns the deliberate efforts of tarnishing the image of national Muslim organisations and main institutions that follow moderate Islam. We also unequivocally condemn all forms of extremism and terrorism, regardless of the perpetrators. We strongly encourage the upholding of the law and integration of Muslims within British society."
Cleric Abu Usamah who was filmed at the Mosque also hit out at the broadcaster. Speaking to the Muslim Public Affairs Committee through a videocast on their website he said: "Some of the statements made by the programme were ludicrous and were taken out of context. These are non-Muslims who are making attempts to increase Islamaphobia".
Related Articles: