 John Abraham on his new film Kabul Express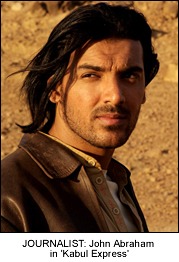 For Bollywood star John Abraham, December is a very busy month indeed. Already riding high with Baabul, the 35-year-old has added another film to the December movie hit list with Kabul Express. The film, a tale of two Indian journalists, broke new ground by becoming the first international movie filmed in post-Taliban Afghanistan. Despite a number of death threats directed at the production crew during the filming, it was shot over 45 days and was screened at high profile film festivals in Toronto and Dubai.
Actor John Abraham talks to us about his experience in shooting in post-Taliban Afghanistan, and on the death threats which nearly brought the whole production crashing to its knees.
What motivated you to take on a film like Kabul Express?
Well I remember Kabir Khan (director) coming and telling me that he was an award-winning documentary film maker. He told me that Kabul Express was a movie which was based loosely on his personnel likes and that he would like me to read it. The minute he said Kabul Express my ears perked up because I thought about Afghanistan and I said wow this is an opportunity to go to a land that you have only seen on CNN and BBC but maybe I would get a different perspective to what's happening there once I go there. And that's exactly what happened I got a completely different perspective once I went there and I read the script and I think before he reached home I told him that I wanted to do the movie.
Is it a co-incidence or a planned decision to work with first time directors?
I go by my gut feeling, let me be very honest. When I picked up Kabul Express there was no producer similarly when I chose to do Anurag Kashyap's script there was no producer so I go by my gut feeling and I don't believe in anything called parallel or commercial cinema. I think actors make it as commercial as it is and I think it's important for us to draw the balance. Speaking for myself I like doing films that are on the edge and are kind of crazy and I enjoy the process!
The film was screened in Toronto? How does it feel to represent Indian cinema on the global platform?
Well before the movie released in Toronto, there was all this talk that the North American press was a little apprehensive because of 9/11. But we had two screenings one for the North American audience and the other for the Asian audience which was predominantly Pakistani Afghani and Indian and all I can say there was a standing ovation after both the screenings. It was outstanding and it's great to represent India on a global platform and it's a great that a movie like Kabul express has gone global simply because very few people know that Kabul express is the only movie to be completely shot in Afghanistan post the Taliban regime. No movie has been shot there.
You do all kind of cinemas like regular, commercial and offbeat like Kabul Express which do you prefer?
I prefer a good script! If the script is good that's it. I think those are terminologies made by people I don't think it's important because a good movie is always watched discerningly by an audience

What was the experience like to share screen space with Arshad Warsi?
I'll go on record again to say that Arshad is the most under rated actor! He's brilliant, has been used for his comic timing in a lot of places and he does that brilliantly but all in all he's a complete actor. There is a lot that I have learnt from Arshad Warsi – in Kabul Express he helped me with a lot of my scenes and a lot of my dialogues. He's an absolutely outstanding person and he's very addictive – once you work with him you want to work with him all the time. We are doing another film together which is tentatively titled 'Goal'. It's on soccer so this time he'll have to listen to me and that's important!
What was the experience of shooting in post Taliban Afghanistan?
Superb! For the people out there and for the press that this is going out too and for the people who are reading this, the Indians have done a lot for Afghanistan. The roads, educational institutions, hospitals, art and museums are all being built by the Indians so the Afghanis love the Indians to death and it's not just about. After God there is Hindi movies and nothing stands in the way of Hindi movies and that's like religion for them. They know every song, every dance, every action, and every dialogue of every movie. And it was shocking when I went there, that there was a John Abraham haircutting salon and a John Abraham photo studio in Mazar-i-Sheriff but conveniently my name had been changed to Ibrahim because for some reason they believe I am the son of the soil there because my mother is Irani so there is a kind of affinity towards me.
In this film you are portraying somewhat Kabir Khan's character because it's his experiences that you are portraying, what was it like?
Superb! Kabir is basically an atheist he does not believe in God, he does not believe in boundaries he believes that we are born to walk freely across the world he believes in getting his job done even if it's in the most difficult places. Arshad once said which is really true that Kabir will ask which is the most dangerous place and if it has a 5% survival rate then he will go and shoot there so Kabir has got a different affinity for danger and he loves dangerous places. He reminds me of myself – I ride a bike I am on two wheels rather then four, I am bohemian by nature, I am an agonist, I believe in the presence of a supreme being but we don't necessarily need to call him god, I do believe there is some one out there but I am also human I pray when I am in trouble so I think there are a lot more similarities between me and Kabir in more ways then one.
You did get death threats when you were there, can you tell us about them
Well there were a lot of radio signals that was intercepted by the RAW the research and analysis the wing which is equivalent to the FBI in the US and I was advised by the raw not to go saying that my life was in danger. I spoke to my producer Aditya Chopra and they stalled the shooting for three days. In the meantime he made amazing arrangements for security to be dispatched onto the set. The security was provided by the 'amniat' that's the Afghani intelligence so it was very safe. We had the occasional suicide bombing and the bullet flying over the heads some missiles here and there so coming back to India was like being in the Garden of Eden!
You are always hounded by the media, what was it like playing one of them?
Well political journalism is much more responsible then film journalism so it's better to play a political journalist, a war documentary journalist who's out there to get a report from Taliban so it was great.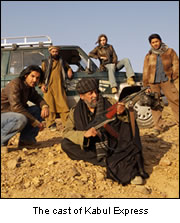 What was the experience like working with co-stars of different nationalities?
Superb, Salman Shahid and Hanif Hum Ghum were the Pakistani and Afghani actors respectively and they were absolutely outstanding they got along so beautifully. There was some underlying tension at the start between the two because Afghanistan always believes that most of the problems in the world are caused by Pakistan and Pakistan feels the same about Afghanistan so we were pretty much sitting on the fence like we usually do as Indians and we enjoyed watching the view from out there. Other than that I think every one got along pretty well with each other. Hanif Hum Ghum and Salman Shahid have done a fabulous job in the movie. I mean all credit to them and especially to Salman Shahid to play the role that he did because it takes a lot of guts for a Pakistani actor to play that role so hats off to him for that.
This is your second film with Yash Raj is there any other project in the pipeline with them?
Yashraj has not offered me anything else, but if they do I would like to because I really believe in today's time no one can market a movie like Yash Raj can and it's a fact, no one can just do it. They are eons and light years ahead of probably the next person in terms of marketing a movie and it shows from their releases and the openings that they get so if I get an offer to work with them I would definitely do it assuming we both like the script.
You fell ill towards the end of the shoot in Kabul, tell us how you managed?
It was towards the end of the shoot I told Kabir that I understand my body clock very well and on the fourth day my body is going to pack up and that's exactly what happened! I had 102-103 degree temperature continuously and I shot with that in minus 15, minus 8, minus 10 sometimes plus 4 which was better but then I had something called as asthmatic bronchitis. I was allergic to the fine dust particles there and believe you me that's the worst time when you feel the inside of your body tearing apart because of the sand it was crazy. But by the time I got out of there and came to the hospital into India I realized I had typhoid too. It was bad. All's well that ends well. The movie has turned brilliant and when you look at the pain that has gone behind making the movie and you see a worthwhile product you say the end justifies the means.
We know you have watched Dhoom2 what do you have to say about the movie?
As a film I loved Dhoom 2. I loved all the characters in Dhoom 2 I think they were exceptional. The hero of the movie was styling, the stunts were beautiful so well executed I think special mention to Hrithik he was really good in the movie, so was Bipasha she looked hot and Aishwarya looks beautiful as always, Abhishek I am fond of and I like him wherever I see him and Uday always does a great job as Ali. Everybody did a great great job, the movie was completely entertaining. When I went and saw it I really enjoyed it and there is a special affinity towards Dhoom 2 because I was part of the original Dhoom.
Kabul Express is out in cinemas now