 How conversion to Islam changed Mohammad Yousuf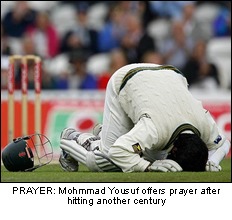 Hours after breaking one of cricket's most sought after records, Pakistan's Mohammad Yousuf told reporters his fete was down to god and nothing else. Since his conversion from Christianity to Islam in 2005, Mohammad Yousuf is a changed man. On the pitch when he hits a century he falls to his knees and prays to god, and away from it, he is often pictured alongside his Pakistan teammates deep in prayer.
In a year that has seen Pakistani cricket fall to its deepest depths, Yousuf has emerged as the glowing prince. He was instrumental in his team's recent series win over the West Indies, and it will be a victory he won't forget in a hurry.
His remarkable 1,778 runs over the past year has seen him overtake legendary West Indies star Viv Richard's record for the most runs in a calendar year.
"It was only with God's help that I have achieved this", Yousuf told reporters after his record-breaking fete.
"I had money and fame but I was restless. Offering prayers five times a day makes you disciplined and I take this discipline into the field as well", he adds.
It would be naive to suggest Yousuf's conversion to Islam has little to do with his recent success – after all the stats speak for themselves.
Before his conversion the 32-year-old averaged a modest 48 in his first 59 Tests. In the past year alone however, his average has shot up to 99.33 – thanks mainly to his remarkable efforts in the recent test against the West Indies where he scored 665 runs in the three-Test series.
When the year began, Yousuf hit a fantastic 173 against India in Lahore. In the following match in Faisalabad he hit another century and was only 3 off another in Karachi hitting 97. Against England, his record gets better. In December 2005 he scored 223 at Lahore and was named man of the match. Seven months later when Pakistan toured England, he scored 202 in the first Test, and followed that up with a 192 knock in the third Test at Headingly and 128 in the final Test at the Oval.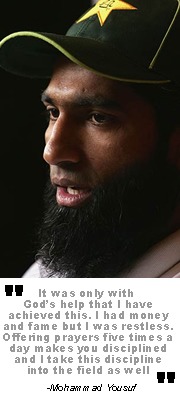 For Pakistan coach Bob Woolmer, there is little doubt becoming a Muslim has made Yousuf a better cricketer.
"Islam has helped him focus on his skills and has shaped the way he practices and the way he trains", Woolmer said in his column for Cricinfo.com.
"There is no doubt that his religion has encouraged a new serenity at the crease, where he is calculating in his shot selection, deadly in its execution and determined in its application.
"His religion has also influenced the way he handles his life generally, which proves that when you are at peace with the world you can focus on work, family and sport with time to spare. It is, in fact, an interesting study of the effect of religion on an individual."
Former captain Imran Khan was also in agreement over the influence Islam has had on Yousuf's game.
"Those who talk about a balance in religion and cricket should realise that the composure, the focus, the discipline and the calm way he negotiated crisis show that his faith has given him spiritual strength," said Imran Khan.
"His faith has suddenly raised his game to different level and I think he is batting at the peak of his career," Imran added.
And for former Pakistan Cricket Board Chief Executive Rameez Raja, Yousuf has proved himself to be one of the country's most gifted stars.
"He's been absolutely brilliant this year and has done it against good teams in India, England and the West Indies and has done it home and away", he said.
"I don't think he has made any technical adjustments as such, but he is so sound mentally now.
"Religion has played a integral part in his growth not just as a cricketer but as a person. I used to doubt his ability to see Pakistan through in situations before but he has rescued Pakistan from precarious positions through the year."
With 2006 drawing to a close, there is no doubt Yousuf will continue with the same form into 2007 as Pakistan look to the World Cup. There are many looking to the 36-year-old to bring World Cup glory back to Pakistan, and with Islam behind him it seems Mohammad Yousuf may just fulfill that dream…inshallah!