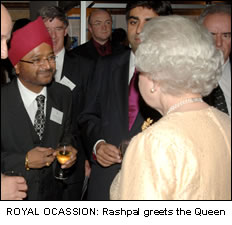 A BIRMINGHAM scientist has been recognised for his services to British science at a star-studded reception at Buckingham Palace.
Rashpal Chana, a member of the Science Learning centre at Keele University, was given the top honour at a special reception hosted at the Queen's residence.
The reception was attended by a number of Royals, including the Queen, the Duke of Edinburgh, the Earl of Wessex and the Princess Royal, as well as world-renowned physicist Professor Stephen Hawking.
Speaking to The Asian Today, the father-of-three said he was honoured to have met the Queen.
"It was an honour meeting the Queen, and she just seemed as any normal person, and I was somewhat surprised that she just turned up without any formal announcement and started speaking to me", he said.
"She asked me what I had done for the British Scientific Community that allowed me to be awarded recognition for my services. I spoke of my work with the Science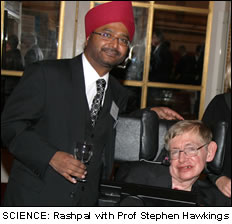 learning Centres, and my role in raising standards in Teaching & learning.
Mr Chana, who lives in the Harbourne area of the city, has had a distinguished career within British science working for the University of Birmingham and Essex University as well as holding teaching posts at Sutton Coldfield College and Stratford upon Avon College.
He said he was "overjoyed" at being recognised for his work, and at meeting Stephen Hawking who was honoured by Mr Chana in a unique Asian way.
"I asked him if I could touch his feet, as it was such an honour to meet such an important and knowledgeable person", he said.
"I explained that it was part of the Asian culture to touch and bow down to the feet of elders who deserved respect. He allowed me to do this."