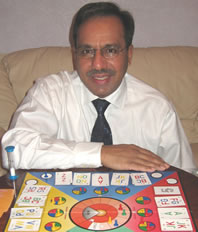 A children's board invented by a British Muslim entrepreneur has scooped not one, but two marks of success.
Alphabet Runner has won a prestigious Good Toy Awards 2006 "Recommended" award from the Good Toy Guide and has been included in its latest catalogue.
Inventor Rasib Khan (pictured right), a retired police engineer from Birmingham, was also a finalist in the recent Best Business Innovation awards last month.
Speaking to The Asian Today, Rasib said he was "delighted" at the award.
"To win the greatest toy award logo in the games industry has been fantastic", he said.
"I will be able to display both logos on the box lids. It is absolutely great news.

"I feel this backs-up my own research that the game is very educational and lots of fun.  Alphabet Runner was play tested by children and parents for the National Association of Toy and Leisure Libraries, compliers of the Good Toy Guide which is the most recognised and respected toys and games tester in the world."
Despite the huge success of the game, Rasib is still trying to secure funding to develop the game further and has been twice turned down to appear on the hit BBC show Dragons Den.
But last week he came face to face with one of the shows stars at an exclusive lunch event at the West Bromwich Albion football club.
"I was fortunate enough to have an exclusive lunch with entrepreneur and BBC Dragons Den star Doug Richards", Rasib revealed.
"Doug suggested that I ought to introduce Alphabet Runner to the USA and take a stand at the New York Toy Fair 2007.
"I have twice tried to get on to the Dragon's Den, but have failed. I am not sure whether to make an application for next year. I really do not want to miss an opportunity to tell the world about this great game called Alphabet Runner, but continual rejection is hard."
Alphabet Runner was one of the success stories at the British Toy Fair last January, and besides going to the USA, Rasib Khan will be back at the UK Toy Fair in January 2007 and will also exhibit at The UK Education Show in March 2007.