 Prime Minister Tony Blair has backed former Home Secretary Jack Straw saying his comments on the issue of religious veils was "sensible".
He said the issue needed to be addressed and discussed as Mr Straw had urged.
Jack Straw had found himself at the centre of controversy after saying the veil was "a visible statement of separation and of difference" between Muslim and non-Muslim communities.
Mr Blair told BBC Breakfast that although the issue of wearing the veil was ultimately a personal issue, debates on the issue would be constructive.
"I don't think anyone is suggesting it's not a matter of personal choice in the end, for people to do what they want", he said.
"But actually what Jack Straw was saying was perfectly sensible, which is that if we want to break down the barriers between people and between different cultures and religions, then it is important these issues are raised and discussed.
"I see nothing wrong with that and I think it is perfectly sensible if you raise it in a measured and considered way to have a proper public discussion about it," he told BBC Breakfast.
His comments come just days after Deputy Prime Minister John Prescott said Muslim women should have the right to wear the veil, adding the issue it could lead to "considerable difficulties" in terms of community relations.
RESPECT MP George Galloway has called for Cabinet Minister Jack Straw to resign over his admission that he would prefer Muslim women not to wear veils.
The Commons leader has been forced defend comments he made about the veil to the Lancashire Evening Telegraph where he said the facial item worn by a large number of Muslim women was  
"a visible statement of separation and of difference".
He also admitted he asked Muslim women wearing the veil to remove it when they visited his Blackburn surgery.
When confronted with criticism about his comments Mr Straw refused to back down and even reiterated his views on BBC's Radio 4's Today programme.
But Respect MP George Galloway slammed the former home secretary saying he should reconsider his position as Blackburn MP.
"Who does Jack Straw think he is to tell his female constituents that he would prefer they disrobe before they meet him," the Respect MP for Bethnal Green and Bow argued.

"Straw should be forced to resign now," he said. "He has rested on the support of Muslim and other traditional Labour voters in Blackburn for far too long."

Respect's national secretary, John Rees, added: "Straw's disgusting comments will fuel racism and Islamophobia. Is he going to ask Sikhs to take off their turbans and Jews to take of their skull caps?"

Mr Straw sparked controversy when he suggested in his local paper that the full veil was "such a visible statement of separation and of difference" that it was "bound to make better, positive relations between the two communities more difficult".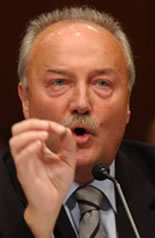 He reiterated his views on BBC's Radio 4's Today programme even going as far as saying the veil should be discarded altogether.
Talking on the Today programme, Mr Straw said: "Communities are bound together partly by informal chance relations between strangers – people being able to acknowledge each other in the street or being able pass the time of day," he said. "That's made more difficult if people are wearing a veil. That's just a fact of life.
"I understand the concerns but I hope, however, there can be a mature debate about this.
"I come to this out of a profound commitment to equal rights for Muslim communities and an equal concern about adverse development about parallel communities."
His views were slammed by some Muslim groups.
The Islamic Human Rights Commission accused Mr Straw of attempting to disengage Muslim women from politics while The Protect-Hijab organisation said the "appalling" comments showed "a deep lack of understanding.
The Muslim Council of Britain feared the comments "may play into the hands of those who are intolerant of Muslims and Islam".
Veil Attack – Muslim reaction
Protect-Hijab
"While it is commendable that Mr Straw has taken steps to find out about the Muslim woman's veil and understand its significance; it is also perplexing that in the same breath, he is asking women who wear it to remove it in his presence.

Protect-Hijab is concerned that Mr Straw's statement shows a deep misunderstanding of the significance of the face veil to those Muslim women who choose to observe it, and his professed concern for community relations is largely unfounded. "There are thousands if not millions of women around the world who wear the face veil and their societies function very well and they are able to conduct their daily affairs without any problems. So I do not buy his argument and I think it is spurious grounds for restricting freedoms which form the foundations of our society," stated Rajnaara Akhtar, chair of Protect-Hijab. Protect-Hijab is concerned that Mr Straw's statements may be perceived by the Muslim community as a step towards constraining the freedom of choice for Muslim women in how they choose to dress in Britain."
Muslim Council of Britain
"There can be no doubt that we are already witnessing an increasingly bigoted anti-Muslim climate being fostered in Britain. Recent weeks have witnessed several arson attacks against mosques and assaults on Muslim individuals around the country. Jack Straw's comments will hardly help," – Dr Muhammad Abdul Bari, Secretary-General of the Muslim Council of Britain.
Islamic Comission Human Rights
"Muslims, particularly Muslim women, are persistently being preached at to engage in the political system and gain a voice for themselves. Yet, here are Muslim women who are willing to actively engage in the system only to be told they must compromise their religious beliefs and practices if they want to be heard. What is to stop another MP asking men to shave their beards or cut their hair before visiting their surgeries, because they feel 'uncomfortable'?"
– ICHR Chairman Massoud Shadjareh.
 Muslim Public Affairs Committee
"Asking women to remove the veil solves nothing from an integration point of view. One can accept that to some it may seem to be a hindrance in communication, but surely if facial expressions were so important the telephone and internet chat-rooms would never have taken off. The face behind the veil is not that of an unapproachable reprobate. They are genuinely nice, extremely intelligent women behind each one. The only difference is that they have made a conscious decision to commit themselves to their religion. For that they should not be proscribed but treated with greater dignity and respect than most." – www.mpacuk.org