 Paul Sinha talks to The Asian Today
What do you get when you mix a gay doctor, with a comedian? Ummm, that would be the very intelligent (doctor) and extremely funny (comedian) Paul Sinha! The Brum GP has created a stir on the comedy circuit with his extending popularity and eclectic style of humour – a feat which saw him nominated for the if.comeddie Award At the Edinburgh Fringe Festival

for his show 'Saint or Sinha?' Despite narrowly missing out on the top prize, Paul remains optimistic and so do his already growing legion on fans. The Asian Today spoke to the man, reviewer David Amos called "Definitely the best Asian, Gay, Medical Practitioner on the comedy circuit anywhere!"
You're Asian, gay and a doctor! Can it get any better for you as a comedian?
Yes! I could be straight. It has to be said, I get a lot of mileage out of that in my show, but it can be problematic the rest of the time. 
You were nominated for the If.Comeddies Award. Were you disappointed that you didn't win?
Not remotely. Being nominated was such a thrilling surprise that it felt like a massive prize in its own right. On the day of the nominations I was suddenly getting called by loads of people I didn't know to have my picture taken and be interviewed. It was manic and great fun. Not only that but the winner, Phil Nichol, is fantastic.
How did you get into comedy?
Through sheer curiosity. I always wanted to know if I had it in me. Turns out I did but it took a long time to find out!
You're a doctor by day and comedian by night. Have you ever cracked joked with your patients?
God no! We live in an extraordinarily litiginous society. One bad quip and I'm a goner. I suppose it can be tempting sometimes, but no, no, no!
What's your favourite 'Doctor Doctor' joke?
The one about the lettuce, the orifice and the punch line " It's the tip of the Iceberg " . Probably far too rude to say in full in your paper, but it's a classic nonetheless!
What's your inspiration for your comedy and why do you think it registers so well with people?
True life is my inspiration, and I think it's my relentless honesty that registers well with people. Some people have described my style as 'confessional', and I suppose it is a bit of that. I kind of excuse my general behaviour by telling as many people as possible about all my misdemeanours. It's certainly more fun than going to a priest.
Would you ever give up being a doctor to become a full time comedian?
I have absolutely no idea. Who knows! This summer has been incredible for me – great reviews at the Edinburgh festival and then the nomination for the if.comeddies… Comedy does seem to be doing well for me. But it is a fickle business, and the world will always need doctors.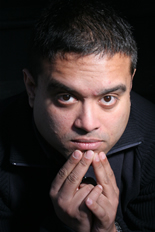 What are you doing at the moment and what have you got planned?
I am in an internet cafe answering your questions! In the short term, my plans involve a chicken and pesto panini. In the slightly longer term, I'm performing shows at the Soho Theatre and can't wait to take to the stage again. Even longer term, I am looking forward to performing my full length show at the Garrick Theatre – never thought I'd ever perform in a theatre like the Garrick! – on October 13 and 14. I'm part of a double bill with a very very funny man called Mark Watson (winner of the if.comeddies Panel Prize), which makes me slightly nervous. Should be great!
Finally, what's your best joke? 
My comedy is not joke based in the traditional sense , its more a series of anecdotes , vignettes if you will , from a gay Asian perspective trying to fit in with a binge-drinking Western laddish lifestyle. Don't get me wrong there are punchlines all over the place, but to remove one of the punchlines and quote it out of context would be to very much dilute its potency. That's not a joke by the way!
Interview by Zakia Yousaf