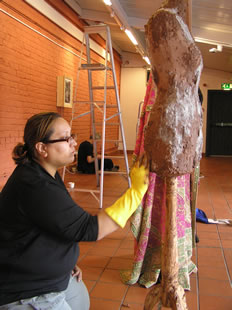 Shahida Choudhry

An exhibition of art by nine Black Country and Birmingham women caused a stir in the quiet parkland gallery at Wolverhampton's Museum Bantock House when it opened this week.
The Inside/Outside exhibition showcases work based on a number of themes including forced marriages, Parkinson's Disease and motherhood in Small Heath's Muslim community.
But one particular display by artist Shahida Choudhry proved too much for some visitors who complained of a smell coming from the female figure exhibit which was covered in wet clay and rotting food.
Exhibition coordinator Sue Challis explained, "This is a serious piece by Birmingham artist Shahida Choudhry with four female figures, each reflecting in some way the struggles of women to express themselves in multicultural Britain. We checked the piece today and made some adjustments which we believe have sorted the issue – and the smell."
"On the whole, visitors have loved the show, and people can rest assured they will be welcomed in to enjoy the work and chat with the artists" Sue continued, "but the show does contain powerful stuff dealing with controversial themes and this did surprise some of the fifty or so people who came on the first day".
The show "expresses, explores and challenges the dilemmas, perceptions, stereotypes and misunderstandings of diversity", according to a statement released by the Midlands women showcasing their work.
In other work showcased as part of the exhibition, Nusrat Sadiq deals with forced marriage and young artist presents a photographic celebration of traditional motherhood in Birmingham's Small Heath Muslim community.
The INSIDE/OUTSIDE exhibition runs Tuesday to Sunday 11am – 5pm at Bantock House, Bantock Park, Wolverhampton – admission free – until Thursday 14th September.