 A LEEDS man who is due to be executed in Pakistan next month has appealed to Prime Minister Tony Blair to intervene in his case.
Mirza Tahir Hussain, 36, faces execution on 1 October for the killing of a taxi driver during a family holiday in 1988.
Despite claiming he acted in self defence he was served with the death sentence by an Islamic court in 1998.
Speaking to the BBC Asian Network, Mr Hussain said he had "suffered" enough and urged the PM to help him.
He told the BBC's Asian Network: "I appeal to the conscience and good humanity of President Musharraf to pardon or commute my death sentence.
"I also call upon Tony Blair to use the relationship Britain has with Pakistan to bring me home."
He said: "I'd like to thank everybody who has campaigned for me particularly the people of Leeds, Amnesty International, the ICRC (International Committee of the Red Cross) and the British High Commissioner in Islamabad.
"Please Mr Blair, take me home – I have suffered enough. My life is to be terminated. I miss my mum, my brother, my nephews, my elders, teachers, family and friends."
His appeal echoes that of his brother, Amjad Hussain who has campaigned tirelessly to get the death sentence commuted.
He too last week urged Mr Blair to intervene in the case
"While this further stay of one month gives me and my family a little relief, it is not enough and in many ways it is extending the uncertainty and agony my brother and all of us have now lived with for 18 years", he said.
"We did not ask for this stay. It shows that my brother's case has got the attention of the Pakistan authorities, but it seems they are still undecided as to whether President Musharraf will step in and stop an innocent man being executed or whether they will let this barbaric punishment go ahead.
'My brother did not commit the crime of murder that he has been convicted of. His trial was unfair and his detention in Pakistan for the last 18 years has destroyed all our lives. Tony Blair must intervene directly now, and I implore President Musharraf to end our agony and commute the sentence immediately."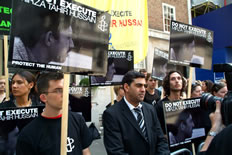 Amjad Hussain at London Demo last month
A number of UK organisations have campaigned on Mr Hussain's behalf. Tim Hancock, UK campaigns director of Amnesty International, who last month organised a protest outside the Pakistan Embassy in central London, said there were "serious doubts about the safety of Mirza Tahir Hussain's conviction".
"This stay is not enough. It does not address the facts that there are serious doubts about the safety of Mirza Tahir Hussain's conviction and that he still faces execution in a matter of weeks", he said.
"We will continue to press the Pakistani authorities, for as long as it takes, until we know that Mirza Tahir Hussain will not, at any time, be executed. And we expect the UK Government to do the same."
Mr Hussain was tried and convicted of murdering taxi driver Jamshid Khan while

travelling to the village of Bhubar from Rawalpindi, Punjab Province, on 17 December 1988.
The taxi driver reportedly stopped the car and produced a gun, and Mr Hussain, who was 18 years old at the time, was reportedly physically and sexually assaulted by the taxi driver. In the scuffle that followed, the gun went off, and the taxi driver was killed.
After several trials, Mr Hussain's original guilty conviction was thrown out by the Pakistan High Court who claimed there were major flaws in evidence provided in the original trial.
But he was then retried by an Islamic court, which sentenced him to death.
A number of previous stays of execution have expired and now only President Musharraf can grant him a pardon or commute the sentence
But members of Jamshid Khan's family have publicly called on the President not to commute the death sentence, insisting that Mr Hussain should be hanged.