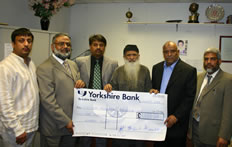 A CHARITY dinner organised to celebrate Pakistan Independence Day has raised much needed funds for the victims of the Middle East conflict.
Organised by the Pakistani Community Centre in Burton upon Trent, the event was attended by a number of high-profile figures.
In attendance were Janet Dean MP for Burton Constituency, Councillor Trevor Hathaway – Mayor of East Staffordshire and his wife Jacqueline and Cedric Insley – the Deputy Mayor and his wife Fay.
The funds raised were immediately taken to London by a delegation from the Midlands and handed over to world acclaimed social worker Abdul Sattar Edhi to be used for the victims of the Middle East conflict.
Before setting off for Lebanon, the 82-year-old, told the delegation that the Israeli attacks had not only devastated Lebanon, but caused destruction everywhere and that he could not describe in words the plight of the people.
He was concerned about the killing of innocent children, women and elderly and said that $1.6 million was needed urgently for the relief operation to begin.
The delegation consisted of Mohammed Jamil, Chaudhary Nabeel Tahir, Chaudhary Zaheer-ul-Islam Katana, Shabbir Ahmed Baig and Sardar Abdul Hamid.
Sardar Abdul Hamid is currently on a fact-finding tour of the United Kingdom to look at the efforts of Real Help in supporting those in need. He himself had been working endlessly in Kashmir since the October 2005 earthquake.
Real Help's trustee Shabbir Ahmed Baig was one of those who went to Kashmir from England after the earthquake, applauded the efforts of Mr Hamid.
He started in 1950 with one ambulance, which he drove for 22 years, but now has the world's largest ambulance service and is running a marine rescue service and air ambulance – with a helicopter, two planes and 25 rescue boats. 
Mohammed Jamil, President of the Pakistani Community Centre said that he was honoured to meet Abdul Sattar Edhi – whose charitable and humanitarian efforts are amongst the best the world has ever or will ever see.