 WHEN Dipak Joshi bent upon his knees and paid homage to Lord Attenborough at the University of Leicester- it was a dream come true.
For the former teaboy on the sets of Gandhi was able to renew acquaintance with the movie mogul he had so longed to meet-almost 25 years on.
The diversity development adviser at Leicester's Haymarket Theatre was overwhelmed with joy at not only being able to meet Lord Attenborough, but his brother David as well.
Dipak, who spent two months with the Gandhi film unit when he was 22-years-old, said he was honoured to meet Lord Attenborough.
"It was a wonderful moment meeting Lord Attenborough again at the University of Leicester. He is a larger than life figure and he remembered people on the catering team during the filming of Gandhi. That was simply amazing", Dipak said.
"I spent two months attached to the Gandhi film unit- I travelled across the country supplying soft drinks and tea to the unit members.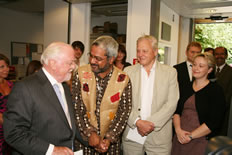 "I met with Ben Kingsley, Govind Nihlani, Om Puri, Saeed Jaffrey and others- I was only 22 and in those two months I gained a lifetime's memories.
"I never imagined that over two decades afterwards our paths would cross again-thousands of miles away in Leicester. I
am very grateful to the University of Leicester for arranging this memorable meeting."
The Attenboroughs were at the University of Leicester where they were being honoured with the titles of Distinguished Honorary Fellows – the highest title the University can confer.
The Attenboroughs are closely associated with the University of Leicester having grown up on campus where their late father, Frederick Attenborough, was Principal of the University College. Lord Attenborough is the Patron of the Centre for Disability and Arts that bears his name and it was here that Dipak met his 'guru' and received blessings from Lord Attenborough – on Guru Purnima Day.