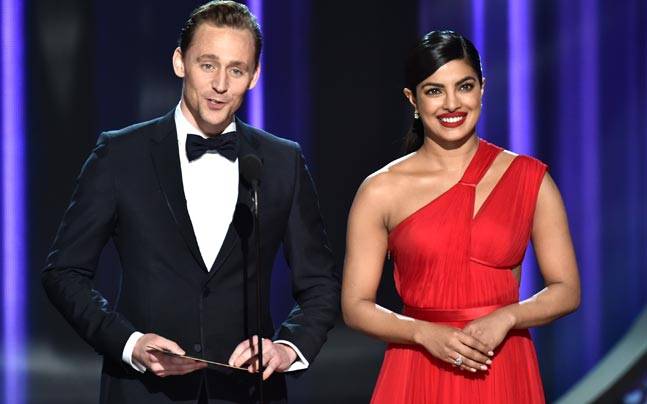 Bollywood turned Hollywood star Priyanka Chopra wowed at the 68th Annual Primetime Emmy Awards, shocking the red carpet in her own bold red dress and presenting an award alongside Hollywood British heartthrob Tom Hiddleston.
Whilst the two were professional and cordial on stage, rumours are abounding about their friendship off stage!
An eyewitness told E! Online:
"Tom had his arm around her and held her close. Afterwards, Tom and Priyanka talked closely and were holding hands at one point for a few moments.
"Priyanka fixed Tom's bow-tie and then the two kissed on both cheeks."
They then exchanged numbers and left the show.
Priyanka has been single and on the market for quite a while now as she prepares for her Hollywood movie debut and gears up for the second season of critically acclaimed American show Quantico.
Hiddleston, who plays Loki in the superhero blockbuster Thor franchise, is fresh from a nasty split with Taylor Swift and will be returning to the silver screen soon for Thor: Ragnarok.
Priyanka wowed on the red carpet with her own red Jason Wu dress, rocking a red lip, and is already topping best dressed lists.