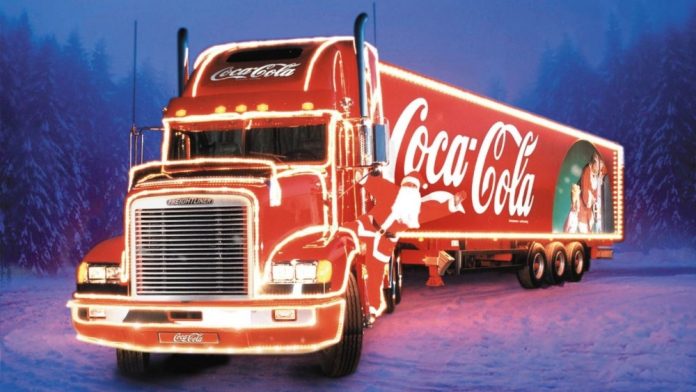 With Christmas approaching, many of us look forward to seeing the Coca- Cola Christmas truck, however Birmingham is not on the list of release date.
The red truck will be heading to Intu Merry Hill, Dudley on Friday, December 6, and Saturday December 7, from 12noon until 7pm.
Coca-Cola have confirmed that the truck, which brings free drinks to cities across the UK, will be setting off on tour on November 15.
The truck will visit 19 cities all over the country bringing including Edinburgh, Leeds, London and Portsmouth.
Coca-Cola's 2018 truck tour saw the flagship vehicle travel a staggering 737,000 miles.
In that time, thousands of Christmas fans have basked in its 8,772 twinkling fairy lights and enjoyed the magical 'Holidays are Coming' jingle, which marks the official start of Christmas for many people.
Listed are the date and venues
Friday 15 and Saturday 16 November: 32 Newcraighall Rd, Edinburgh EH15 3RD (Open 12-7pm)
Friday 15 and Saturday 16 November: 49 The Hayes, St David's Dewi Sant, Cardiff CF10 2ER (Open 11:30am-6:30pm)
Tuesday 19 November: Asda, Creechbarrow Rd, Taunton TA1 2AN (Open 12-7pm)
Thursday 21 November: Asda Boldon, North Rd, Newcastle upon Tyne, Boldon Colliery NE35 9AR (Open 12-7pm)
Friday 22 and Saturday 23November: White Rose Shopping Centre, Leeds, LS11 8LU (Open 12-7pm)
Friday 22 and Saturday 23November: Cribbs Causeway, Bristol, BS34 5DG (Open 12-7pm)
Wednesday 27 November: Asda, Pudsey, Leeds, LS28 6AR (Open 12-7pm)
Friday 29 and Saturday 30 November: Whiteley Shopping Centre, Portsmouth, PO15 7PD (Open 12-7pm)
Friday 29 and Saturday 30 November: Marshalls Yard, Gainsborough, DN21 2NA (Open 12-7pm)
Monday 2 December: Asda Eastlands, Manchester, M11 4BD (Open 12-7pm)
Tuesday 3 December: Asda, Leyton Mill, London, E10 5NH (Open 12-7pm)
Wednesday 4 December: Asda, Watford, London, WD24 7RT (Open 12-7pm)
Friday 6 – Saturday 7 December: Intu Trafford Centre, Manchester, M17 8AA (Open 12-7pm)
Friday 6 – Saturday 7 December: Intu Merry Hill, Dudley, DY5 1QX (Open 12-7pm)
Tuesday 10 December: Sainsbury's Beckton, London, E6 6JF (Open 12-7pm)
Wednesday 11 December: Sainsbury's Essex, London, SS13 1SA (Open 12-7pm)
Friday 13 and Saturday 14 December: Events Square, Cheshire Oaks, Liverpool, CH65 9JJ (Open 12-7pm)
Friday 13 and Saturday 14 December: Intu Lakeside, London, RM20 2ZP (Open 12-7pm)
Sunday 15 December: 02 Arena, London, SE10 0DX (12-7pm)