BASS Festival is back for October 2019 and this year, we're shining a spotlight on THE FUTURE. Now in its 13th year, BASS Festival has teamed up with two of Birmingham's brightest young creatives to curate the festival and leave a new legacy. This year's curators, Aliyah Hasinah and RTkal, will be showcasing exclusively black artists, creatives, speakers and performers from Birmingham, the UK and beyond.
Expect six days of live music, workshops, panel discussions, exhibitions and film screenings across some of Birmingham's hidden venues, as well as an unveiling ceremony of our 'Future Faces Of Birmingham' mural. 
Artists include Big Zeeks, Jamie Rodigan, Mr Williamz, Jevon, Randy Valentine,Cali P, 808INK,Anaïs, Italo Skarcha, JAS CRW, Layfullstop, Bake Off's Liam Charles And Many More. 
For All Press Enquiries, Contact
MEET THE CURATORS
ALIYAH HASINAH & RTKAL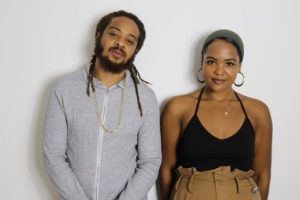 Aliyah Hasinah is a young curator, writer and creative whose work centers on international black experiences. Her most recent work sees her researching decolonial curatorial methods and practice across the UK, America's, Caribbean and African Continent.
She has curated projects such as Bald Black Girls with Artist Ruth Sutoyé, The Gallery is Many Things at Eastside Projects and The Past is Now at Birmingham Museum & Art Gallery. Aliyah was also previously the Midlands Producer for Apples and Snakes and has worked with organisations including V&A, SBTV, BBC1XTRA, Channel 4 Random Acts and TEDx.
Aliyah's work is published in Sabrina Mahfouz' 'The Things I Would Tell You: Muslim Women Write' and online. Aliyah is currently an organizational facilitator for Fearless Futures. 
RTkal is a young veteran of the Birmingham music scene. Inspired by his generation and his heritage, he has used music to spread positive vibes, unite and entertain audiences across the world as a performing artist, hyping up some of the biggest audiences in the world including performances at Glastonbury, Bestival, Lovebox, Outlook and so much more 
RTkal is one of the founders of IDST music studio and Beats and Barriers Academy who aim to upskill and equip young Birmingham based creatives with knowledge and entrepreneurial skills.
This year's festival will also take place at The MBC, a space created by RTkal and his team to shine a light on Birmingham's creative industry and its rich pool of talent.
ALIYAH & RTKAL ARE BOTH AVAILABLE FOR INTERVIEW.