The launch of a revitalised menu and outdoor terrace at Marmalade secures the restaurant's place firmly on Birmingham's culinary map.
Sticky and sweet inside and out, The REP relaunched its Marmalade restaurant and bar on Thursday 25th July after an extensive refurbishment that introduces a brand-new outside terrace overlooking the fountains of Centenary Square.
Ensuring that it stays true to its Birmingham roots, the Marmalade team have been working closely with local businesses and artisan suppliers to provide customers with an all new dining experience that is inherently Brummie and will be the only food and drink offer on Centenary Square.
The menus are environmentally conscious, too with vegetarian and vegan options readily available. Suppliers of provenance have been used wherever possible, who in turn source their products in the same way. Ensuring they have a low environmental impact has also been an important consideration, including using heat exchange technology to reduce energy consumption and natural wetland systems.
But this hasn't been at the expense of taste: diners can indulge in dishes such as Chicken & Pork Jambonette, Glazed Baby Carrots & Gooseberry Jam; or Sweet Potato Thai Curry, Mange Tout, Bok Choi, Shitake Mushrooms, Coconut Crisp & Fragrant Rice. Those with a sweet tooth are also well
catered for, with desserts on offer like the Blueberry Frangipani with Vanilla Crème Fraiche; or Chocolate & Coffee Mousse with Chantilly Cream & Pecan Praline.
New partnerships with local eco coffee provider, Iron & Fire, and global brand Martini, bring some unique additions to the drinks menu. There's also a new relationship with the local award-winning Purity Brewery, who have created a one-off cask ale for the bar that has been flavoured with a jar of home-made marmalade. Live events will also take place throughout the summer with a series of music events running each Sunday.
The stylish décor that Marmalade is known for has been continued from the inside out and showcased beautifully on the new terrace which can hold up to 200 people. With views over the newly developed Centenary Square, it's a great spot for lunch in the sunshine, after work drinks a date-night dinner or people-watching at any time of the day.
Jules Raikes, Catering Director, Birmingham Repertory Theatre, said: "We are incredibly proud of our new menu and have worked closely with our excellent head chef Dario Pinho and our local suppliers to ensure that it is both delicious and varied but also environmentally conscious.
"There's something for everyone, whether you're looking for a light lunch, afternoon tea, Sunday roast or more indulgent evening meal. With our large terrace overlooking Centenary Square, it's the perfect place to come and watch the world go by whilst enjoying our artisan coffee or sipping on one of our signature cocktails. Marmalade is the ideal place to begin a great night out in Birmingham"
The bar and restaurant have often been the go-to place for a pre or post-theatre catch up over a meal or drinks, now with a revamped space and sumptuous new menu on offer, Marmalade is set to become a destination dining venue in its own right.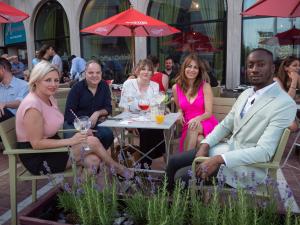 On Thursday 25th July, Birmingham's VIPs were some of the first in the city to see their brand new outside terrace overlooking the stunning Centenary Square; taste highlights from their mouth-watering new menu; experiment with new and old favourites from their brand new cocktail menu, all mixed up with some of the finest live music, at a special showcase event.
Furthermore, Marmalade is an independent business owned and run by Birmingham Repertory Theatre with profits going towards the artistic and charitable aims of the theatre.
For additional information visit: https://www.birmingham-rep.co.uk/our-place/food-and-drinks.html