On Wednesday 8th May, International Thalassaemia Day, Bambos Charalambous, MP for Enfield Southgate, led the way for fellow MPs to raise awareness of thalassaemia. Members from the charity, United Kingdom Thalassaemia Society (UKTS), were invited in to the Houses of Parliament to speak to MPs about this serious, genetic blood disorder. An All Parliamentary Party Group (APPG) was created for UKTS, to represent all those living with the condition. Working together with UKTS, the APPG will provide a platform to discuss the challenges faced by patients, their families and medical professionals in the field.
Mr Charalambous said, "I am delighted to be Chair of the APPG for such an important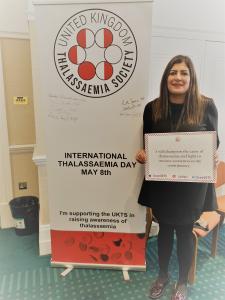 cause, one that resonates with many of my own constituents." Preet Kaur Gill MP (Birmingham, Edgbaston and Khalid Mahmood MP (Birmingham, Perry Barr) were also very committed to the cause and pledged their support to the group and cause. Romaine Maharaj, Executive Director of UKTS added "It is great to have the support of Bambos and the other MPs. We want to reach out and support all those with this serious condition. With increased understanding of thalassaemia among the general public and in particular amongst high-risk groups, this condition could and should be consigned to the history books."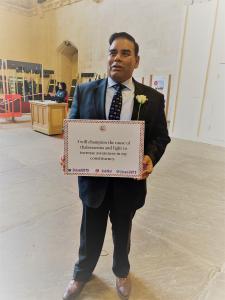 People with thalassaemia cannot make enough haemoglobin in their red blood cells. Consequently, they need frequent and regular blood transfusions throughout their lives. If left untreated, a child born with thalassaemia would die in early infancy. In parallel, they also need chelation treatment to remove the excess iron that comes from regular blood transfusions. Iron overload is extremely harmful and can lead to organ damage and ultimately failure. Beta-thalassemia is prevalent in Mediterranean countries, the Middle East, Central Asia, India, Southern China, and the Far East as well as countries along the north coast of Africa and in South America. Every year, at least 75,000 children are born with thalassaemia worldwide. In the UK there are currently over 1,200 patients living with thalassaemia. With medical advances, most people with thalassaemia who adhere to a medical treatment regime, are able to manage the condition and live full lives. However, with better awareness and more effective screening, it could be eradicated.
If you would like to be tested for thalassaemia, ask your GP for a simple blood test. Or if you would like more information about the condition, please contact UKTS on info@ukts.org