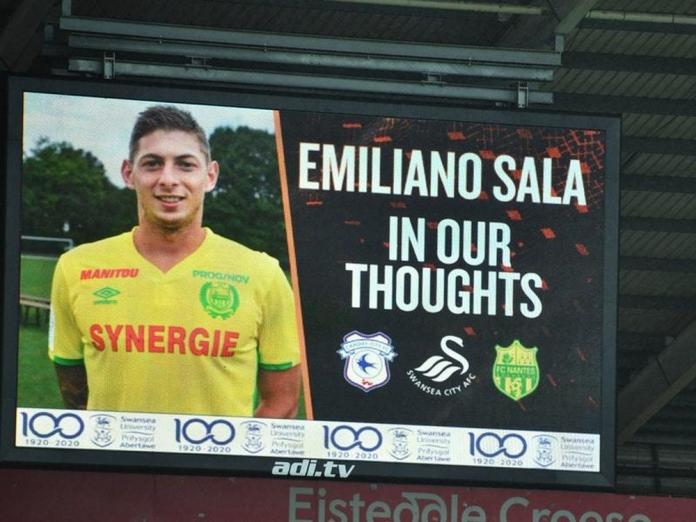 The plane carrying the newly-signed Cardiff City footballer and pilot David Ibbotson disappeared on January 21.
Earlier, shipwreck hunter David Mearns said it was a 'possibility' that the bodies would be found.
Underwater video footage shows one occupant visible in the wreckage of the plan which was carrying new-signed Cardiff City footballer Emiliano Sala, the Air Accidents Investigation Branch said.
Mr Mearns said 'most' of the plane was there, telling BBC Radio 4's today programme: 'were expecting to find a debris field, it is broken, but most of it is there.'
When asked whether there are still bodies on board, he said: "That's a possibility, and they will be planning for that as well so there's a number of things the AAIB have to consider but their main role obviously is to conduct their investigation of what caused this crash."
The Piper Malibu N263DB was found in waters North Guernsey on Sunday- 13 days after it had disappeared after leaving Nantes in France for Cardiff.
A privately- funded search operation is yet to announce the exact location of the wreckage, although the floor of the Western Channel is generally 200 to 400 feet deep.
Sala's father has spoken of his anguish and disbelief after the wreckage of the plane carrying the missing Cardiff City footballer was discovered in the English Channel.
Speaking at his home in Argentina, Horacio Sala said he was "desperate" after a privately-funded search operation found the aircraft in waters north of Guernsey on Sunday.
"I cannot believe it. This is a dream. A bad dream. I am desperate," Mr Sala told local broadcaster Cronica TV.
"I communicated with them every day, but since I do not have WhatsApp it's hard to call them or call me.
"They told me that the days passed and there was no news of Emiliano or the plane."
Marine scientist David Mearns, the director of Blue Water Recoveries, led a team on the search vessel FPV Morven while the UK Air Accidents Investigation Branch (AAIB) also sent a team aboard its the Geo Ocean III.
Mr Mearns tweeted: "Wreckage of the plane carrying Emiliano Sala and piloted by David Ibbotson was located early this morning by the FPV MORVEN. As agreed with the AAIB they moved the GEO OCEAN III over the position we provided them to visually identify the plane by ROV.
"The families of Emiliano Sala and David Ibbotson have been notified by Police. The AAIB will be making a statement tomorrow. Tonight our sole thoughts are with the families and friends of Emiliano and David."
The privately-funded operation on behalf of the Sala family was made possible after a campaign raised more than £260,000 to pay for it.