The voluntary Birmingham Youth Sports Academy, founder Anwar Khattak received Pride of Birmingham Award for TSB Community Partner Award for his remarkable work with thousands of children which took place on Thursday 8 March at University of Birmingham's Great Hall.
The sports academy is set-up to help coach children in football and offer educational training, mentoring and guidance. Within months of starting a kickabout for a dozen youngsters had increased tenfold, and soon Anwar had to interview volunteers to start a community football club for local kids.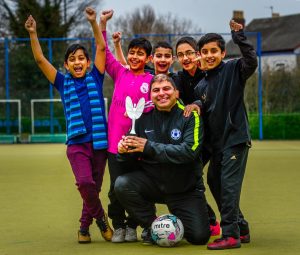 Anwar speaks to The Asian Today about his Birmingham Pride Award: "This award means a lot to me and for the organisation for the hard work, time and dedication since 2002"
"I had a vision then and now it's all paid off having so many children in and out our doors, the success stories then and now, changing children lives, mentoring and educating them, covering topics of life skills, setting future aspirations help and supporting them and finally being there for them to be part of an organisation. The BYSA has made its mark within the community we have had many challenges over the years but non-that could not be solved it's truly been an honour to serve my community with my group of volunteers and may it continue.
"When I found out about the award I was speechless and was happy to see that  we are being recognised by others that may or may not know what we do in the heart of small Heath offering a service on a voluntary basis since 2002 on average 9/10 hours per week it all adds up I was over the moon when I told my team that we have won an award for our hard work which at one stage everyone was shocked but it all sank in and put smiles on everyone faces especially when it was announced to the children of the academy.
"Having played at a semi-professional level and all the good coaches and managers I've been around they have motivated me to start something up myself as nothing was available around the area this is why the BYSA started its journey to deliver sports coaching for children, all credit to my late parents who believed in me to become successful in what I set out to do, my brothers who have been role models for me and gave me character I am today but most importantly my wife and children who have allowed me to continue delivering the BYSA project and may it continue as my sons says "one day I will take over the BYSA.
"I like to thank everyone who has helped, supported, funded, guided me and the BYSA project especially my sponsors, ambassadors, partners, volunteers and the members of the BYSA the children, parents and the community without them the BYSA would not be here today.
"I would like to say a special thanks to my late parents, brothers as role models, my wife and kids letting me continue my work within the BYSA
"Thank you to my team of volunteers old, new and present who have the same vision and drive as me to deliver the project
"The award is a bonus and much appreciated for the recognition and hard work that goes into the BYSA project on a voluntary basis since 2002 it's an honour to be noticed me and my team are very proud
"When the Pride team came to visit us, there were 172 kids in attendance, and they asked me 'How is one man going to make them all be quiet?'
"You have to see it to believe it, but all our kids are respectful.
"When they heard we had won the award there was certainly a big scream and loads of applause."
Anwar admits he gets a kick out of seeing the club get recognition, he reveals his real 'buzz' comes from seeing the kids off the sofa and running around outside.
"I get a real buzz of seeing the kids playing out and enjoying themselves. Our motto has always been to inspire potential to fulfil dreams, and that will always be our goal."
Dawn Megginson, area director for TSB West Midlands, says: "The TSB Community Partner Award is all about celebrating the amazing work people do to help their communities thrive – and Anwar is a shining example of someone doing just this.
"Supporting young people not only on the pitch, but off the pitch too, and helping them to reach their full potential, is so important. It's set to be a fantastic evening and I can't wait to celebrate all of the remarkable things happening right across Birmingham."
To date, Anwar estimates that around 5,000 youngsters have been through the doors of the BYSA, with some even going on to train as sports coaches.
Anwar was one of eleven winners, hosted by Coronation Street star Kym Marsh in front of a star-studded audience including the city's best-known celebrities.