Chinese New Year Celebrations in Birmingham are now a four day festival. Firecrackers, Lion Dancing and Drums extend a warm handshake to China signalling the Midlands is open for Business based on Friendship and Trust. Jas Sansi spent four days chasing the lions with his Nikon and notebook.
"In order to trade with a nation, there has to be trust. Trust is built by spending time with each other, celebrating each other's festivals. There is no bigger Chinese festival than the Chinese New Year celebrations" James Wong, Chair of Birmingham Chinese New Year Committee explained how the UK and China can develop deeper relations in coming years.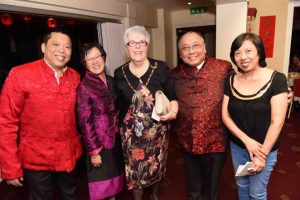 The Midlands is the only region in the UK enjoying a trade surplus with China. This is predominantly due to Jaguar Land Rover exporting brand Britain to the Far East.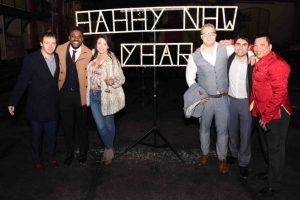 It is a success story we want to build on as we reach out to trade partners beyond the EU whilst redefining the relationship with our European friends and neighbours. Trade is not a zero sum game, growth benefits all parties.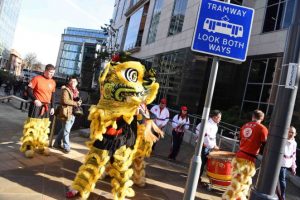 The Chinese New Year Celebrations have been part of Birmingham's social calendar for almost two decades. The festivities held in the middle of February, have until now, focused on the Chinese Quarter of Birmingham known as Southside. 
A decision was taken to extend the party from one day to four days and to reach out to other parts of the city. The four days of events followed a fireworks celebration to welcome in the Year of the Dog on Thursday, the dancing lion dispatched to the financial district on Friday, the shopping district on Saturday and returned to the Chinese district on Sunday.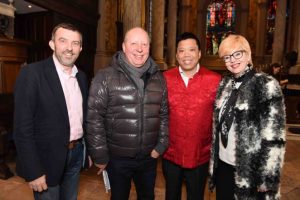 This allowed the festival to gather momentum in the build up to the final day of activities on Sunday. It was pure genius with local media following the story, social media covering every drum beat and photographers and video capturing every step of the procession.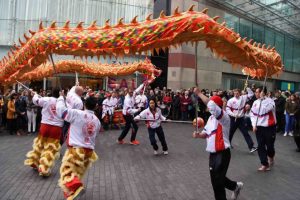 The result; a record 30,000 visitors to Birmingham Southside on Sunday, a delegation from the Chinese Embassy in London, Birmingham Lord Mayor Cllr Anne Underwood and Midlands Mayor Andy Street standing alongside the Chinese New Year Committee to proclaim 'we are open for friendship and we are open for business.' 
The Lord Mayor and Embassy Delegation were invited to dot the Lion's head, officially launching a full day of arts, culture and performances across the district.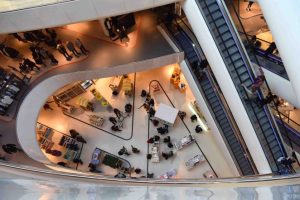 Hurst Street hosted the main stage, Arcadian the second stage and Birmingham Hippodrome opened its doors to a day of activities and recitals.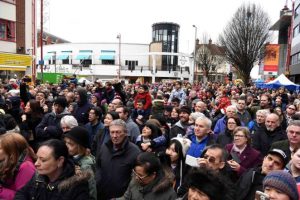 Arts and Culture have a way of uniting a city in a unique way; witness our city centre on any given day and you will see it's population going about it's business in parallel dimensions. Some will be wearing earphones, oblivious to the sounds around them. Others texting whilst walking ignoring trip hazards in their pathway. Office workers grabbing a quick coffee, students rushing to classes, visitors exploring, deliveroo cyclists delivering, street wardens and traffic wardens keeping order.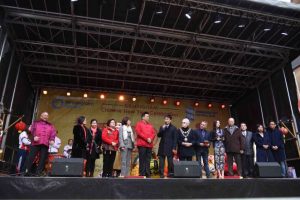 All in parallel universes seemingly oblivious to one another. Drop a public performance such as the Chinese Lion Dancing into these proceedings and watch a city district transform. Earphones are unplugged, texting stops, coffee remains unsipped. 
The citizens of parallel existence become a unified audience who find themselves participants in a public work of art. Some watch, others record the action on phones, few fail to be seduced by the drum beat that signals each move of the dancing lion. Few can ignore the clash of cymbals that support the drum beat.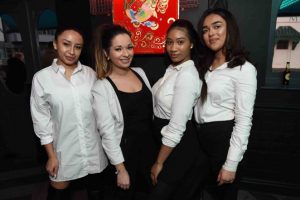 From pre school children delighted at the din to pensioners who've 'never seen anything like it' a city is bought together in a celebration of humanity. And that's the buy in to a festival such as the Chinese New Year Celebrations, it's not just about sending more Range Rovers to Shanghai and Cadbury's Chocolate to Beijing. Its about a city coming together, recognising its differences but embracing it's diversity. And leveraging  opportunity from this diversity for the universal benefit of all.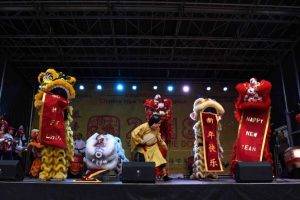 Happy New Chinese Year everyone.
Jas Sansi is a freelance photographer based in Birmingham, trustee of LoveBrum and columnist for The Asian Today.
@jassansi 07930 837 505
Images from the Birmingham Chinese New Year Four Day Festival:
Thursday: https://www.flickr.com/photos/jassansi/albums/72157690503436382
Friday: https://www.flickr.com/photos/jassansi/albums/72157690513980952
Saturday: https://www.flickr.com/photos/jassansi/albums/72157693534064205
Sunday: https://www.flickr.com/photos/jassansi/albums/72157693578717135