Students from across the region met Labour leader Rt Hon Jeremy Corbyn MP in a short meet and greet this afternoon (14th Nov).
The event, hosted by South and City College Birmingham in conjunction with the Association of Colleges, saw more than 100 students quiz the leader of the Opposition on a range of issues, such as Brexit, inflation, university debt, transgender issues, homelessness and more.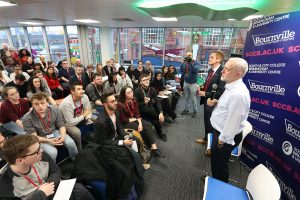 The Labour leader was speaking ahead of his keynote speech at the AoC's Annual Conference at the ICC Birmingham.
Mike Hopkins, Principal at South and City College Birmingham, said: "We're very pleased to be hosting this session. It's great to see so many students across the region take advantage of this opportunity and ask some really challenging questions."
Students from as far as Derbyshire, Leicestershire and Warwickshire welcomed the opportunity to meet Labour leader and ask him questions directly. "It's been great meeting Jeremy and I learnt a lot from the experience. I was interested to hear what his plans for the future are, especially with regards to healthcare and education."  Amba Fellows, a social media student at South and City College said.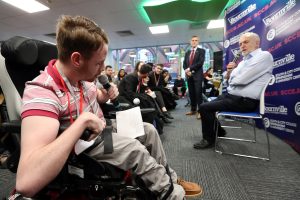 David Hughes, Chief Executive at the Association of Colleges, commented: "It's great that the Opposition leader was able to engage with students around issues that are important to them. These were the same issues he delivered in his keynote speech to those looking to improve the further education sector."