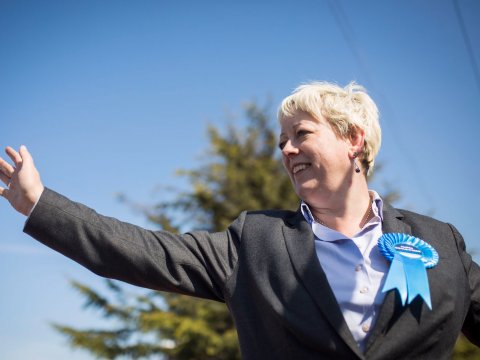 In new footage recorded from the party's conference, a Conservative minister has said homes should not be seen as assets for parents to pass to their children.
Jackie Doyle-Price, social care minister, told a fringe meeting that many older people were "sitting in homes that really are too big for their needs" and said the party was still looking to make reforms to the funding of social care.
"The reality is that the taxpayer shouldn't necessarily be propping up people to keep their property and hand it on to their children when they're generating massive care needs," she told the Social Market Foundation fringe in footage released by the Labour party.
"We've got to a stage where people feel that they are the custodian of an asset to give to their offspring … They shouldn't be seen as that."
"We are very much looking at, when the review comes up, we will be looking at the whole issue of caps and floors," she added, later in the same meeting.
Doyle-Price said the younger generation should not be expected to fund care for pensioners when there were already huge pressures on their finances.
"Those of us who are fortunate to have gone through university without paying anything, fortunate enough to have then bought our own homes, have been able to build up a level of wealth," said the MP for Thurrock.
"But actually, current people coming through the universities, who are going to be funding, looking after us after we have retired, have not had those advantages, and fundamentally it's unfair to expect them to pay their own taxes to deal with that."
Labour leader, Jeremy Corbyn, said it was "appalling" the Conservatives still expected people with dementia to sell their homes to pay for care.
"The idea of a 'dementia tax' was rightly rejected by the public during the general election," Corbyn said.
"It can't be right that if you have a heart condition you're treated on the NHS but if you have dementia you have to pay with your home.
"This is further proof that the Conservatives are yesterday's party, with no plan to fix our country's problems."
The so-called "dementia tax" in the Conservative manifesto caused controversy immediately when the party committed to "means-testing for domiciliary care" including "the value of the family home along with other assets and income" and separately "a single capital floor, set at £100,000" so that "people will always retain at least £100,000 of their savings and assets".