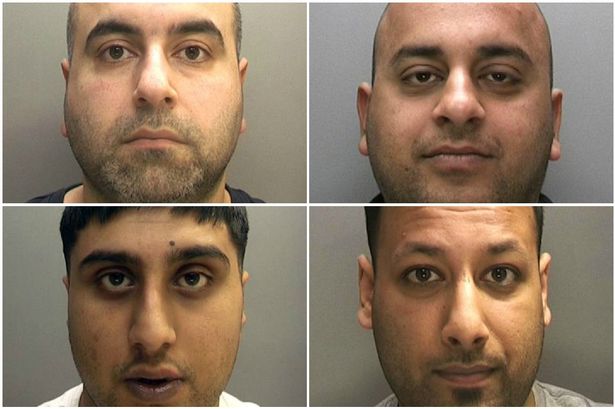 Three members of a drug dealing gang called the 'Mug Squad' have been jailed for more than 30 years after a terrified victim fell 30ft to his death when the trio stormed his home to attack him.
50-year-old Anthony Wellington slipped as he tried to climb out of his second-floor window in an attempt to escape after hearing the thugs outside.
Mr Wellington, a drug user, was targeted in a revenge attack by the gang after he robbed a dealer working for them on March 7 this year.
He tried to escape the attack by the group, who were hooded, turned up at his Stratford Road home later that night.
Mohammed Nadeem, 34, of Shenstone Road, Edgbaston , was locked up for eleven-and-a-half years, Rizwan Yaqub, 32, of Wyckham Road, Hall Green , was jailed for ten years and nine months and Furhaad Mahmood, 24, also of Shenstone Road, received a sentence of nine years and 11 months.
24-year-old Waqar Ahmed of Paignton Road, Edgbaston, who also took part in the attack but was not a member of the 'Mug Squad', was jailed for nine years and five months.
All four men had previously admitted manslaughter.
Prosecutor Mark Heywood told Birmingham Crown Court, "It is impossible to say whether Mr Wellington crawled out head first or whether he tried to go out feet first.
"Whichever way he did he must have lost his balance, falling head first on to the pavement.
"He suffered head injuries that were irrevocable.
"He was pronounced dead at the scene," he added.
Mr Heywood said the victim had already escaped out of the window before the attackers broke through his front door.
"It is not clear how many went in," he said.
"The extent of the damage inside the flat suggests that it was very likely two at least."
"He readily understood the degree of threat that he was being faced with.
"He must have feared the consequences of being caught in that room by those trying to get through the door would have been severe indeed."
Passing sentence, Judge Paul Farrer QC said, "Mr Wellington was plainly terrified and resorted to climbing out of a window. "He fell to the ground approximately eight and a half metres below."
"This was intended to be a punishment attack so as to reassert the gang's authority and deter others from targeting the gang in future."