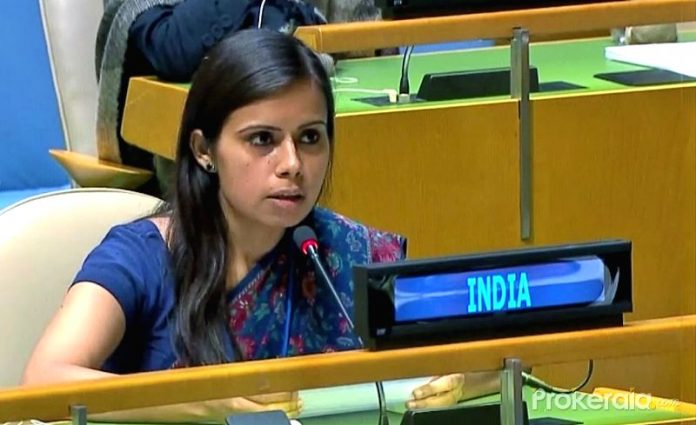 In response to a speech by Pakistani Prime Minister Shahid Khaqan Abbasi, an Indian secretary called the country 'Terroristan'.
India called upon its Right of Reply to respond, though the nation will itself address the UN on Saturday.
The angry response game after Prime Minister Abbasi delivered a speech in which he accused India, on the issue of Kashmir, of employing "massive and indiscriminate force" against civilians protesting against Delhi's rule.
"Shotgun pellets have blinded and maimed thousands of Kashmiris, including children. These and other brutalities clearly constitute war crimes and violate the Geneva conventions," he said.
Mr Abbasi also called for the United Nations to assign an envoy to oversee the region.
Eenam Gambhir, India's first secretary to the UN, said it was "extraordinary that the state which protected Osama Bin Laden and sheltered Mullah Omar should have the gumption to play the victim".
"In its short history, Pakistan is a geography synonymous with terror. The quest for a land of pure has actually produced 'the land of pure terror'. Pakistan is now Terroristan with a flourishing industry producing and exporting global terrorism," she said.
"Its current state can be gauged from the fact that Hafiz Mohammad Saeed, a leader of the UN designated terrorist organization Lashkar-e-Taiba, is now sought to be legitimized as a leader of a political party," Ms Gambhir said.
She also accused Pakistan of "avaricious efforts to covet the territories of its neighbours".
The region of Kashmir has long been fought over between the two nations. In response to the references made by Mr Abbasi, however, Ms Gambhir said, "In so far as India is concerned, Pakistan must understand that the state of Jammu and Kashmir is and will always remain an integral part of India. However much it scales up cross-border terrorism, it will never succeed in undermining India's territorial integrity."
"Even as terrorists thrive in Pakistan and roam its streets with impunity, we have heard it lecture about human rights in India. The world does not need lessons on democracy and human rights from a country whose own situation is charitably described as a failed state," she said.